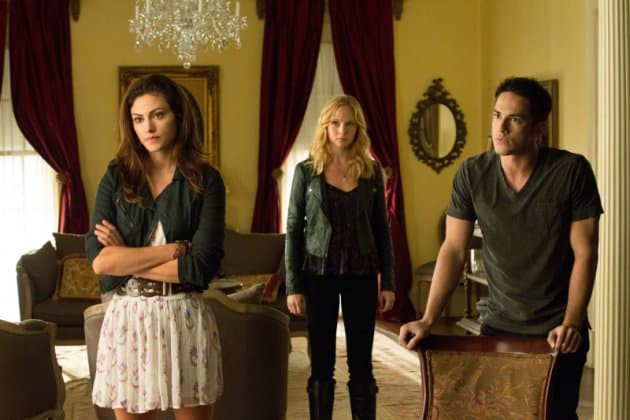 Stefan dug into the history of 'The Five', an elite group of hunters, in this week's episode of The Vampire Diaries.  As it turns out, this group of hunters that Klaus and his family first met in 12th century Italy are the key to finding a cure for vampirism.  Now Klaus is off to find an important piece of the puzzle to find the cure and Stefan has been sworn to secrecy.
Meanwhile, Damon took a road trip with Bonnie and Elena to a nearby college so Bonnie could meet with the professor who took over her grandmother's Occult Studies class and so Damon could teach Elena how to feed from humans.  Elena let herself go wild at a college Halloween party but soon came to realize that she wasn't that kind of person/vampire.  Now she's not certain whether she can really adjust to her new life, which clearly leaves Stefan desperate to find that cure for her.
In next week's episode, Connor takes Jeremy, Matt and April hostage at the Grill and Stefan and Damon disagree about how to handle the hostage situation.  Unfortunately, the situation becomes even more dire when Klaus sends one of his hybrids to confront Connor.  Back at the Lockwood mansion, Caroline is shocked to find Hayley being chummy with Tyler.
Watch a preview below for the November 8th episode of The Vampire Diaries, airing at 8:00 p.m. ET/PT on The CW.  Browse through photos for the episode here.
http://youtu.be/LL_mLItOjGE