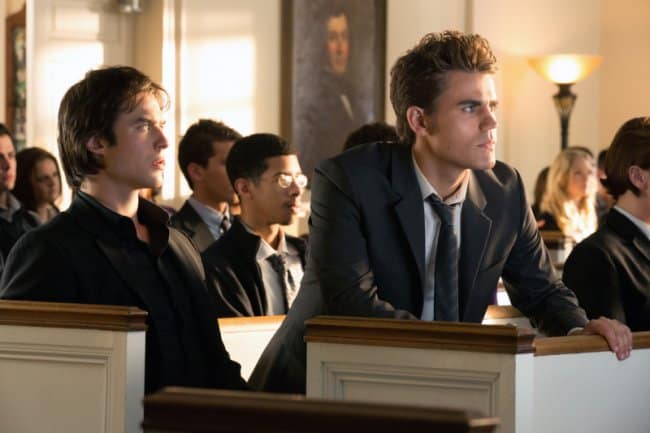 Well, that's it, folks.  Elena is officially the newest vampire on The Vampire Diaries.  In last night's season premiere she valiantly tried to find another way to avoid becoming a vampire but every attempt was either foiled or it failed.  After Elena, Stefan and Rebekah were captured by Pastor Young and the Council, Elena had precious little time left and Stefan wasn't prepared to let her die.  Fortunately, a helpful guard gave up his life (with some help from Rebekah) and Elena drank human blood and completed the transition.  Later, she and Stefan reaffirmed their relationship as he gave her a daylight ring and she rejected Damon, despite remembering the things he had forced her to forget when she was human.  For more about the episode, read Emma's review.
Not that the inevitable has come to pass, what's going to change?  Well, first, Stefan wants to make sure Elena never gives into her baser vampire instincts.  In the upcoming episode he's all about teaching her to be a vegetarian vampire and help her adjust to her new senses, feelings and urges.  Damon, the other hand, wants Elena to accept the inevitable about becoming a vampire, even if that means drinking human blood.
But Elena's adjustment to being a vampire isn't the only problem in store in episode 4.02.  A new vampire hunter named Connor is coming to town and this guy probably isn't going to embrace supernatural friends like Alaric.  He's a killer of vampires and he's got his sights set of several of the people we know.
Watch a sneak peek below for the October 18 episode of The Vampire Diaries. Visit our Vampire Diaries page for spoilers, photos, sneak peeks and reviews of the show.