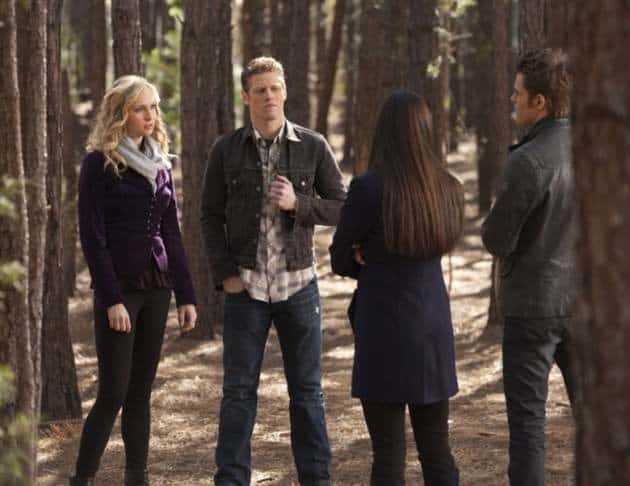 Last week's episode of The Vampire Diaries featured Damon learning the truth about the existence of a second white oak tree. Thanks to Sage's manipulation of Rebekah, Damon now knows that there's another tree out there that can kill the Originals. Unfortunately, Sage is desperately in love with Finn, so she teamed up with Rebekah to burn down the bridge that contained the wood. Fortunately for Damon, the girls didn't know that the wood had also been made into a sign…a sign that Damon just so happens to now have in his possession.
In the upcoming March 29 episode of The Vampire Diaries, Damon and Stefan will recruit Matt, Elena and Caroline in their new "kill the Originals" plan. Giving each of them a stake made from the white oak sign, their plan is to finally do away with the Originals. Finn will be returning to Mystic Falls in this episode and Klaus and Rebekah team up to convince him to help them out…one that involves forcing him to act against his will. Klaus is actually very busy threatening people, since he convinces Bonnie to help him with a spell by threatening someone close to her, while Rebekah focuses her hatred on getting revenge on Damon.
Watch a sneak peek below for the March 29 episode of The Vampire Diaries, which will then be going on hiatus for two weeks. You can also watch a preview for the episode here and browse through photos here.
Don't forget to check out our new showpage for The Vampire Diaries. It's your one-stop-shop for all of our coverage of the show, including reviews, previews, photos and spoilers.