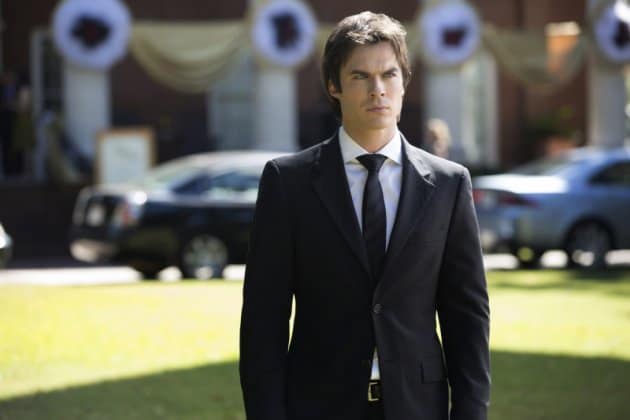 I suspect there's a few Vampire Diaries fans out there who weren't crazy about the ending of last night's episode.  After Elena and Stefan separated last week, Elena decided to approach Damon and let her know that she's interested in him (read Emma's review).
But Stefan isn't the only person who thinks that a relationship between Elena and Damon is strange.  Caroline seems firmly against "Delena", insisting that Elena isn't really acting like herself since becoming a vampire.  And it was Caroline who came up with the theory that Elena's attraction to Damon right now, her strange blood drinking habits and odd behavior since becoming a vampire are actually due to a sire bond with Damon.  Stefan seems convinced that this theory holds water, but, as you can see from the clip below, Damon is skeptical.  So Stefan proposes a test: Damon will tell Elena to drink human blood from a blood bag.  If she can keep it down, then Damon clearly has a sire's influence over her.
Is the sire bond theory correct?  We'll have to wait until the December 6th episode of The Vampire Diaries to find out.  The episode will also flashbacks to the Salvatores and Lexi in 1940s New Orleans (watch a preview).
http://youtu.be/Vj-SkY2Ja64