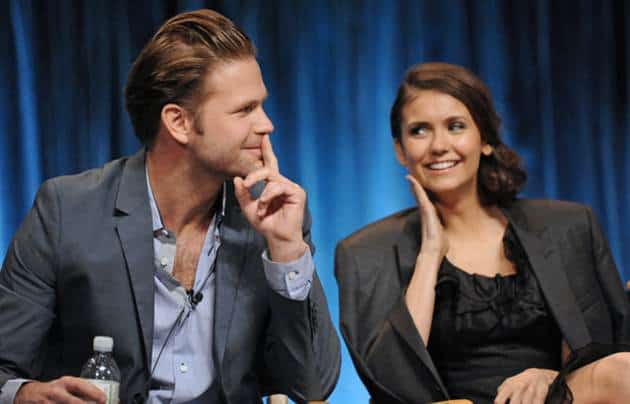 The Vampire Diaries cast and exeuctive producer Julie Plec appeared at a panel at this year's PaleyFest. They teased a few spoilers for this season, including what might happen with the Originals, whether Katherine will return and what's in store for Bonnie's friendship with Elena.
Ester and the Original Siblings: Have we seen the last of the Originals who decided not to stick around Mystic Falls (Kol and Elijah)? And what about those two Originals who mysteriously disappeared after a spell gone wrong (Esther and Finn)? Julie Plec said that we haven't seen the last of the Originals. Despite Esther's spell being disrupted in episode 15 (the last episode before the break), that was not the last we've seen of the Original family or Esther's plan to try and destroy her children. There's still 'a whole other chapter to that story'.
Stefan's Journey: Julie said that Stefan is still on a journey throughout this season. Basically, Damon and Stefan each began the show as a villain and a hero, but in their core they are both light and dark. Essentially, their journey is a battle for them both. Damon tries to resist his urges to be good and pure, while Stefan tries to resist his more evil tendencies. Ian Somerhalder said that 'Damon and Stefan have equal capabilities of good and evil'. Julie doesn't believe that Stefan can go back to the man he was at the beginning of The Vampire Diaries. But 'he's still Stefan…he's still pure, strong, loyal, full of love, and full of light'. But he will still have to find a balance within himself and find a way to function as both a vampire and a good man. 'Damon is no more good than Stefan is evil'and apparently the brother's relationship is the true love story. Paul Wesley said that, as an actor, he does enjoy playing the darker side of Stefan, but he also enjoys Stefan's inner turmoil and his journey.
Damon-Elena-Stefan Love Triangle: Will the triangle come to a head by the end of the season? 'It's going to come to a head – maybe not THE head – but a head for sure,'Julie shared. She reminisced about the beautiful love story that Elena and Stefan had at the beginning of the series. But Stefan's absence and his subsequent bad behavior caused Damon and Elena to grow closer to each other. Basically, for Elena, the whole love triangle debate is all part of growing up. Julie said that before the end of the season 'Elena will ask herself '˜who do I care for?'.'Nina Dobrev joked that maybe Elena needs to travel to Europe and meet some new boys who won't try to kill her.
Season Deaths: Will everyone survive this season of The Vampire Diaries. 'I don't know,'Julie replied. Unfortunately, that was all she would say about it, but it certainly sounds like someone won't last until the end.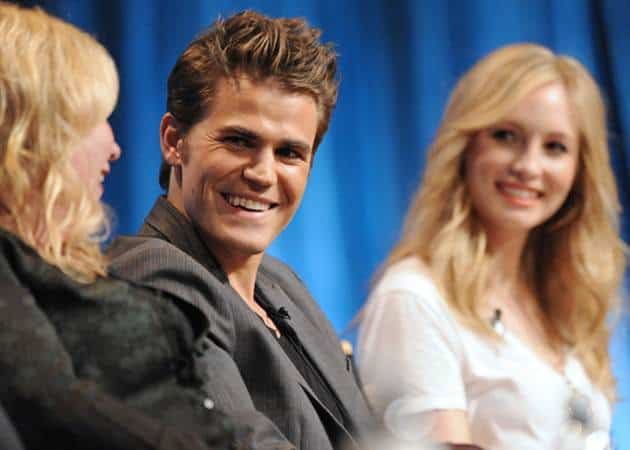 Damon and Rebekah: If you've seen the photos for the March 29 episode of The Vampire Diaries, you know that Rebekah is going to take some drastic action against Damon. Specifically, she's going to torture him. Julie warns that Damon will do something 'very crappy'to Rebekah in an upcoming episode and she doesn't respond well to that. Ian warns that while Damon was clearly a bad boy in season 1 in particular, the 'Originals have an appetite for destruction'and apparently they're out to make trouble. 'Hell hath no fury,'Julie warned about Rebekah.
Katherine's Return: The fans who have been missing the devious Katherine may be a bit disapointed, because Julie pointed out that Katherine has spent the last 500 years running from Klaus 'with great success'. If she returns to Mystic Falls, she'll be putting her life in danger. No matter what Katherine feels for Damon and Stefan, her instinct for self-preservation is far more important.
Bonnie's Relationships: Katerina Graham said that we will definitely see a new boy in Bonnie's life, one that will hopefully not turn evil or disappear or die on her. As for Bonnie's slightly fractured friendship with Elena, the girls will have to work through that, but Katerina believes they can. And you will see Caroline and Bonnie bond as they both help Bonnie's mother deal with her new life.
Elena's Parents: News has been circulating that they're looking for actors to play Elena's parents. Julie said that 'we're talking about having a flashback as we get to the end of the season that shows us Elena's life before she had vampires in it. That would involve her parents, obviously. But it's not written yet, so we'll see [where that leads].
A new episode of The Vampire Diaries will air on March 15 at 8:00 p.m. ET on The CW. For sneak peeks, previews and photos for the show, check out our Vampire Diaries page.
Photo Source: PaleyFest