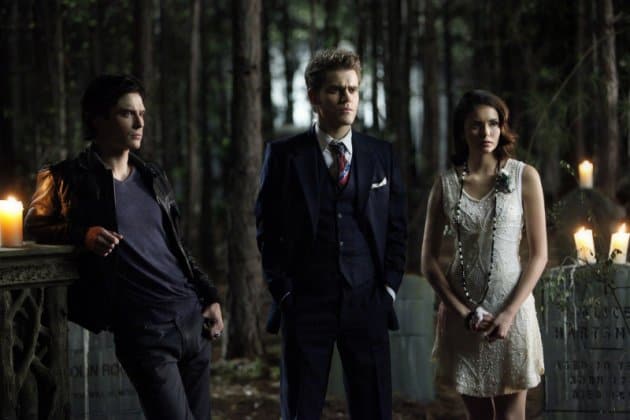 Last week The Vampire Diaries was broadcast television's #1 social series for the week of January 21–27, according to Trendrr.TV.  This was the first time The Vampire Diaries had achieved this honor, but The CW and Warner Bros. Television are thrilled and grateful to the fans.
The Vampire Diaries fans threw a #TVDparty throughout social media last week, generating nearly 865,000 social interactions across Twitter, Facebook, GetGlue and Viggle.  Previously, shows such as American Idol, Glee and Family Guy had topped this list, but last week vampires ruled the internet.   On January 24, executive producer Julie Plec and cast members Nina Dobrev, Paul Wesley, Ian Somerhalder, Kat Graham, Zach Roerig and Claire Holt all live tweeted during the episode, causing the #TVDparty hashtag to trend on Twitter that night.
There's not enough that can be said about the importance of social media in this day and age, particularly for lower-rated shows.  Don't get me wrong, The Vampire Diaries is not in danger of being cancelled.  It's no longer The CW's highest-rated show (that honor belongs to Arrow now), but it's still a powerhouse show for the network and may even spawn a spin-off.  And yet, we can't help but notice the increasing importance attributed to social media in a time when the Nielsen system of ratings is called "outdated" with increasing frequency (although that hasn't stopped anyone from turning away from the system until something better is created).  Still, networks and studios pay attention to activity such as this.  Take, for example, the praise that The CW's president heaped on Beauty and the Beast during the network's TCA presentation recently.  Despite having the same ratings as The Secret Circle, which was cancelled after one season, Mark Pedowitz thinks Beauty and the Beast is doing well creatively and has a potential future.  The fact that social media contributed to the show recently winning the People's Choice Award for Best New Drama would contribute to that.
Then there's a show like Supernatural, which has seen it ratings drop over the years, but its online presence is stronger than ever.  It too won People's Choice Awards and was the #1 talked about scripted show on Get Glue last year.  Also, back in 2011, TVOvermind conducted a survey with a graduate student to determine the show with the strongest online fandom.  Unsurprisingly, both Supernatural and The Vampire Diaries made the list, as did many other lower-rated shows like Community and Fringe.
In other words, if you talk about your favorite shows online, it's likely going to be taken into consideration when it comes time to determine the fate of your series, especially if that show is on The CW.  So chat and tweet away!