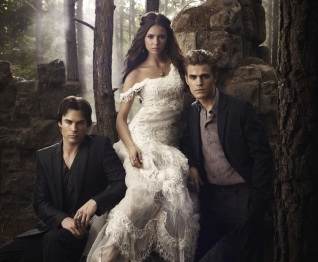 Some interesting news coming from E!Online. The recent success of The Vampire Diaries has prompted The CW to have Kevin Williamson, an executive producer for The Vampire Diaries, develop what's being called a "companion series" for The Vampire Diaries. Apparently the new show won't be considered a spin-off, nor will it be introduced in an episode of The Vampire Diaries (like they tried to do with a potential Gossip Girl spin-off about Lily, which prompted a special 1980s episode). Kevin Williamson has been hired as the writer for this new series, and apparently Julie Plec, another executive producer on The Vampire Diaries, is also rumored to be involved.
According to insiders, Williamson's new project is a one-hour drama about a group of researchers who investigate paranomal happenings.

It is not being called a spinoff but rather a companion to The Vampire Diaries.

This is not a back-door pilot, meaning it won't be aired as a special episode of Vampire Diaries. It's unknown at this time if any of the TVD characters would cross over to the new series, and details are still being decided, however it isn't likely, as this companion project is currently considered a separate entity.
The show is currently being developed for the 2011-2012 season. It looks like The CW will have a very full slate of pilots to choose from next year. This show is in addition to a pilot being developed from "The Secret Circle" book series, also written by The Vampire Diaries author L.J. Smith. A few other additional pilots are being developed, including a potential pilot being produced by Samuel L. Jackson and a few other shows with female heroines and one produced by Michelle Trachtenberg.
Smallville is ending in 2011, so that's an open spot on The CW's schedule. If we speculate that Life Unexpected will likely be canceled and assume that current shows like 90210, Gossip Girl, The Vampire Diaries and Supernatural will be renewed for an additional season, then the network will likely have at least two spaces on its schedule for new pilots. Depending on how new shows like Nikita and Hellcats perform and whether they're renewed for a second season (and whether The CW will renew One Tree Hill for a ninth season), the network might be putting out quite a few new pilots next season.
clarissa @ tvovermind.com
twitter.com/clarissa373
twitter.com/tvovermind