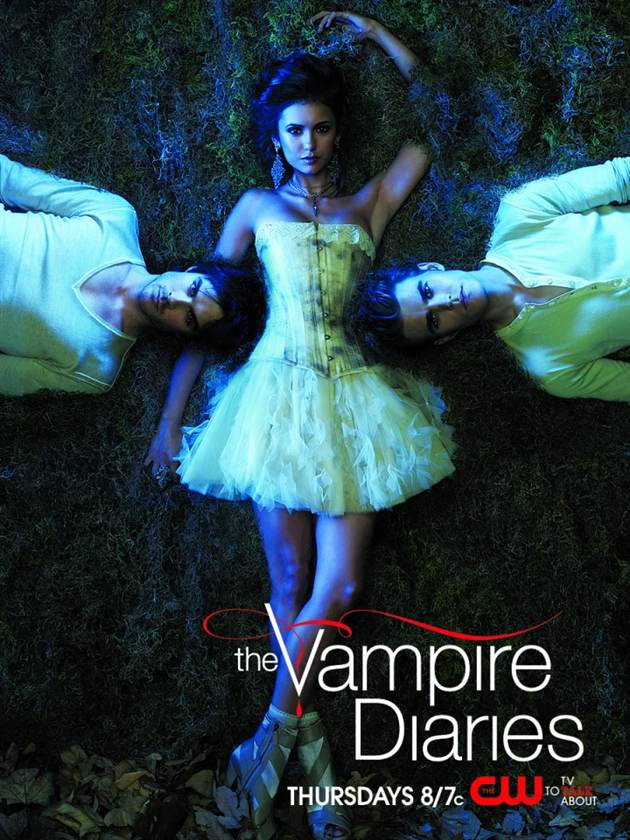 The midseason finale of The Vampire Diaries airs tonight, possibly (but undoubtedly) leaving us in a blubbering, agonizing mess when the credits roll. So we're going to take a look at what the future will hold for our favorite denizens of Mystic Falls and the creatures who loathe/love them, which includes, most notably, fresh blood to the population.
One of the newbies, Jules (Michaela McManus), will make her debut tonight as she will come to town looking for Mason Lockwood, who is dead as a doornail courtesy of one Damon Salvatore. What could she possibly have in connection with Mason? And could this fact be her downfall? Either way, Jules will have one thing in common with another newcomer coming in the new year.
E! Online has revealed that Stephen Arnell will be heading to Mystic Falls as the character of Brady, who is "an old friend of Mason Lockwood who blows into town with a vengeance. He's a loyal friend or your worst enemy depending on who you are." Does this mean Damon will get his comeuppance for killing Mason when Mr. Brady blows into town? Or will that honor be reserved for Tyler if he ever finds out about his uncle's death? Expect Arnell/Brady to be around for two episodes, one of which is in the middle of filming down in Atlanta as we speak. Maybe that episode order will be extended if he's a hit with the fans?
Also, we recently reported that Mystic Falls will get a new news anchor in Andie Star, played by True Blood's Dawn Olivieri. Besides upping the sex factor on the show, will Andie also have some sort of supernatural ties to the town like her predecessor Logan Fell (Chris Johnson), who was a Council member? Or will she feel in the hole left behind by Kelly Donovan (Melinda Clarke) from last season?
Speculation on just what exactly these new residents have to offer in the overall world of The Vampire Diaries will only rise after tonight's episode airs. However, one big piece of speculation will be the casting of Original Vampire Klaus, whose presence is already heavily felt. The casting call for this year's nemesis goes as follows:
Klaus is late-20's to mid-30's. He's handsome, charming, intelligent, with a sharp wit. He's the only person who can out-Damon Damon. That's because he's got a thousand years on him. Klaus is one of the Originals. Possibly the oldest. But you'd never know it because he keeps up with the times.
Numerous Vampire Diaries websites have wish lists that include stars like Adam Brody and Jason Dohring to nab the crucial role, but we want to know who YOU think should play Klaus in the new year.
Leave us a comment and visit our Forums to voice your opinion on the matter. Then next week, we will do a follow up article to display the top guys you wanted for the role. Now this doesn't mean we will pass this info on to Julie Plec and Kevin Williamson, who might have an even better selection in mind, but it's just a fun activity to keep the blood flowing and mouths talking during the hiatus.
So who do you think should get the role of Klaus?
Source: E! Online