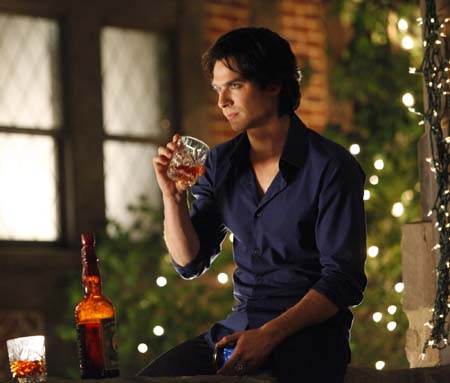 The CW is delivering even more Vampire Diaries goodies for season 3. Last week we were treated to a trailer for the new season (view it here) and now the network has released promotional photos from the upcoming season premiere.
Here's what we know about The Vampire Diaries season 3 premiere: the episode, entitled "The Birthday", will take place a few months after the events of the season 2 finale. Stefan will be traveling with Klaus, who is still intent on corrupting the vampire. While on their travels, they'll meet up with Ray Sutton (played by David Gallagher), a werewolf who will be appearing in the first two episodes of the season.
Back in Mystic Falls, meanwhile, Caroline is planning a spectacular bash to celebrate Elena's 18th birthday. With the eldest Gilbert sibling turning 18, she and Jeremy won't need a guardian anymore (which is good news, since most of their guardians have met a horrible fate). While Elena is desperately worried about Stefan and his disappearing act, she also can't help but be drawn to Damon, who is trying very hard to win her attention.
Below are the promo photos for the season 3 premiere of The Vampire Diaries, which will air on Thursday, September 15. For more season 3 spoilers, check out our Vampire Diaries page and our Comic-Con coverage.
[imagebrowser id=1139 template = flipped]