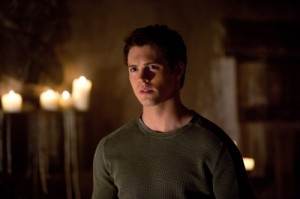 Wow. How about that episode of The Vampire Diaries, huh? If you missed last night's surprising episode (Damon gave Elena his blood, Tyler returned and Aunt Jenna might get turned into a vampire!), then you should read Emma's review to catch up.
The ritual begins for real in the penultimate episode of The Vampire Diaries, which will be airing next week on May 5. Now that Elena and Jenna are trapped by Klaus, they both have to try and prepare for what Klaus will do with the ritual. Werewolf Tyler will also be facing off against Matt (who is not feeling very fuzzy towards the werewolf) and Caroline.
The entire situation starts spinning out of control and Damon must admit to Stefan about his werewolf bite and how this could complicate matters.
Below are two trailers for the May 5 episode of The Vampire Diaries, courtesy of The CW. The first is a shorter version, while the second is much more detailed. You can also view promo photos for the episode that we previously posted here. After being largely absent, Jeremy and Bonnie are back in the game on May 5.
You can also view photos from the season finale of The Vampire Diaries here, which will air on May 12.

clarissa @ tvovermind.com
twitter.com/clarissa373
twitter.com/tvovermind