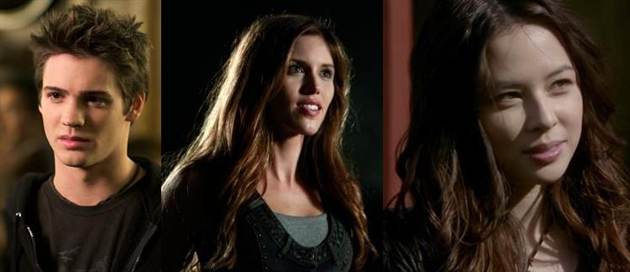 In my opinion, the biggest twist at the end of season 2 of The Vampire Diaries wasn't the Damon-Elena kiss, or Stefan ridding off into the (bloody) sunset with Klaus. No, it was possibly the best kept secret of any finale: the fact that the newly resurrected Jeremy could now see the spirits (?) of his two dead girlfriends: Vicki and Anna.
Vampire Diaries producer Julie Plec spoke with EW about Jeremy's upcoming storyline for season 3, so let's delve into a few mild spoilers for next season, shall we?
The Vampire Diaries' third season premieres on Thursday, September 15 (for more CW show premiere dates, click here), and when the show returns, Jeremy's life will continue to be difficult.
One Guy + Two Dead Girls
According to Plec, Jeremy will keep his new abilities a secret from his friends and family, but he will continue to see Vicki and Anna. 'We'll see that maybe he's been keeping this a secret, that nobody else is aware of what he's been going through, and that his behavior has changed quite a bit and people are starting to wonder if he's perhaps getting back into some old bad habits. When in reality, he's just trying to figure out why the hell he's being haunted by his dead girlfriends.'
This storyline will continue until an episode in October that Kevin Williamson says will be the climax of this particular plot twist, which will involve some unexpected characters.
Plec says that we'll learn more about why Vicki and Anna have shown up again, what they want and "who else they have access to from our past".
But What About Bonnie?
Of course, the big question is how Bonnie will react to Jeremy's ex-girlfriends haunting him. Well, Bonnie's in for some very difficult relationship hurdles that have nothing to do with witches or vampires. 'It's not about being a witch or having access to the power of a 100 witches, it's about being a girl who loves a boy whose heart is a little bit torn in different directions. I think it will be nice for us to see Bonnie explore some good relationship stuff for a change instead of just being the witch on duty.'
The Vampire Diaries cast will be at San Diego Comic-Con later this month and I'm sure we'll be hearing more about season 3 in the coming weeks. For more about The Vampire Diaries' panel at Comic-Con (as well as other Warner Bros. shows), click here.
clarissa @ tvovermind.com
twitter.com/clarissa373
twitter.com/tvovermind