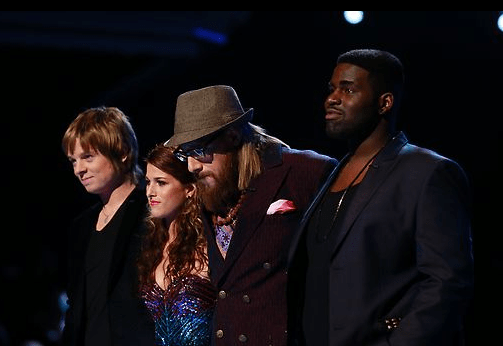 Tonight on The Voice, the final three contestants get their last shot at convincing the viewers that they deserve to be named the winner of season 3. After last week's sad goodbye to Trevin Hunte, we are left with only one remaining member of Team Cee Lo, Nicholas David. Joining Nicholas in the finals this week are Team Blake's Terry McDermott and Cassadee Pope.
Nicholas has been a surprisingly strong contender all throughout the competition, despite only having convinced Cee Lo to turn his chair around during the blind auditions. His performances have been (mostly) spot on and also very entertaining. Besides his superior talent, however, Nicholas seems to be a genuinely nice and humble guy, a fact that certainly couldn't hurt him going into tonight's voting.
During this week's finals, coach Blake must divide his loyalties between two of his team members, a fact that won't necessarily be easy for Mr. Shelton since he tends to become very involved and connected with the singers on his team. Terry and Cassadee have seemingly been fan favorites from the get go; however, Terry has managed to maintain a very consistent performance record, while Cassadee was somewhat under the radar initially before really gaining momentum over the last several weeks.
Tonight, all three singers will perform live in the hopes of gaining enough votes to earn the title of The Voice season 3 winner. Going into tonight's performances, it seems that there is no clear front runner, however, should Ms. Pope come out on top, it can easily be said she was the dark horse of the competition.
The Voice airs Mondays and Tuesdays at 8/7c on NBC.