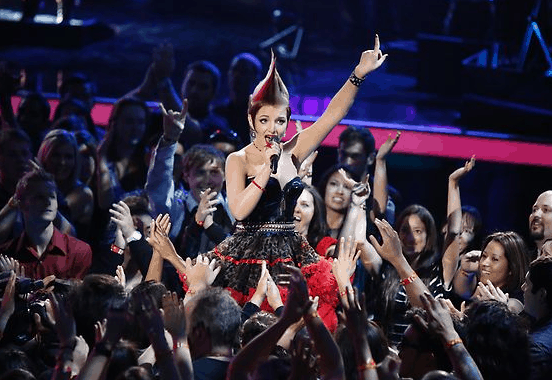 On Monday night, The Voice kicked off its play-offs with its first live show in which Team Adam took on Team Blake.  Unlike the Battle and Knockout rounds, the contestants weren't put up against anyone in particular, but instead, were left to give their performance and then lie in wait for America's decision to be announced on Thursday for who will be moving on in the competition.
The first thing I noticed about The Voice live shows on Monday was that, apparently, going live makes Carson Daley a little less surly than usual. Typically Carson is comically impatient with the judges and seemingly somewhat indifferent about the contestants, but on Monday, he seemed to have a little extra bounce in his step and he even seemed a bit jived to be there. Whether it's the excitement over the live shows or actually just happiness over the mandatory time limit, it was nice to see him having a good time.
When it came down to performances, there were some clear standouts on Team Adam. Bryan Keith, who sang his version of "Iris," was spot on as usual, which earned him high praise from the judges. Amanda Brown (Adam's "steal" from Team CeeLo) gave what was certainly one of the best performances of the night when she took on "Dream On" and nailed it. Other, more lack luster performances of the night included Melanie Martinez (the girl with the two toned hair), who sang "Hit the Road Jack," Joselyn Rivera, who took on "Give Your Heart a Break," and Loren Allred who delivered a shaky version of "All Around the World."
Not looking at all intimidated by the bar that had been set high by Team Adam, Team Blake came out swinging with Terry McDermott singing "Don't Stop Believing"…and you know what? I didn't stop believing because Terry, with his Spinal Tap hair cut, was awesome! I know that he's been sticking to the classic rock genre and all, but seriously, I love this kid. The other Team Blake standout for the night and my other favorite performance of the evening (along with Amanda) was Michaela Paige who cleverly chose to sing (thanks, apparently to Blake's suggestion) the Neon Trees ' "Everybody Talks," which suited her perfectly and allowed her to show off both her vocal chops and her stage presence.  The other members of Team Blake fared okay, but paled in comparison to the other two. Liz Davis tried to take on "Independence Day," but lacked a little bit of the passion to make it convincing for me. Cassadee Pope, who always looks so forlorn, gave "My Happy Ending" a shot and did a fair job, but nothing too stand outish. Julio Cesar Castillo actually sang wonderfully on Monday night and deserves to stay in the competition, but the choice of the mariachi song "El Ray," may alienate some voters who didn't like the unfamiliar song choice.
Tonight, Team Christina and Team CeeLo go head to head when the remaining contestants perform live. Based on Monday night's performances, they have some big shoes to fill, however, I believe that some of the best live performances have yet to be seen…until tonight (I'm watching you Nicholas David and Trevin Hunte).
The Voice Live Show results air Thursday at 8/7c on NBC.