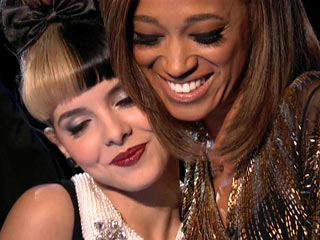 Last night on The Voice, Team Adam was instantly knocked out of the competition with the elimination of his two remaining contestants, Melanie Martinez and Amanda Brown. With Christina Aguilera's team already out of the running, this leaves only Team Blake and Team Cee Lo with a shot of winning season three of The Voice.
Melanie was the first to go last night, which proves that the viewers of The Voice are paying attention.  Having become a bit predictable with the same whispery voice and lamenting attitude, she was already losing favor with the viewers, however, with Monday's blatant disregard for the judges' (mostly Christina) constructive criticisms, she no longer seemed she was respecting the process of the show, which, in turn, earned her a one way ticket home.
Amanda, on the other hand, has been nothing but gracious throughout the show, despite having gotten the boot from Cee Lo early on. Her performances, when on, knocked everyone's socks off, however, she had been struggling to be consistent over the last several weeks. With the viewers not sure what to expect and with such a contrast in song choices, it made it hard to become diehard fans of Amanda, therefore, making viewers less likely to vote.
Although it was sad to see the contestants leave last night, it is the start of a trend in which singers we have grown very attached to and with genuine talent will be sent home because, after all, there can be only one winner of The Voice.
Were the right contestants sent home last night? Who do you think deserved to go home instead?
The Voice airs Mondays and Tuesdays at 8/7c on NBC.