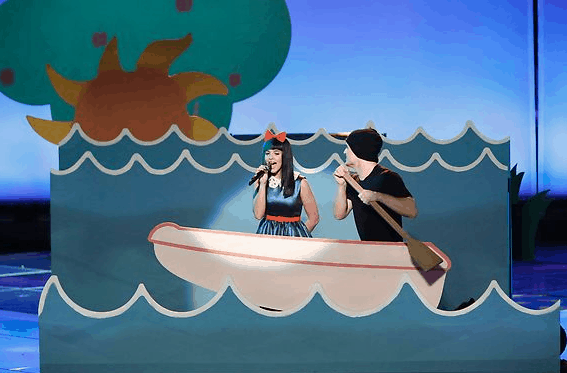 Last night on The Voice, the final 6 contestants took the stage hoping to impress the viewers enough to earn their places in the quarterfinals next week. For the first time this season, contestants had two chances to wow the audience, singing one song that the coaches picked and another that they selected for themselves. While there were many highs during last night's live performances, there were also some notable lows that could leave certain contestants in serious trouble going into tonight's results show. Below is the breakdown of the good, bad, and the ugly:
Nicholas David (Team Cee Lo): First up for the night, he had his work cut out for him to be memorable through a two hour show. For his first song, Cee Lo selected Earth, Wind, and Fire's "September," a choice that made sense for Nicholas, however, his avoidance of the high notes left some of the coaches a little disappointed. For his own selection, Nicholas chose to put his own spin on "Somewhere Over the Rainbow," a choice that paid off big time with even the very competitive Adam Levine remarking that he was sure there were "people weeping right now, in a good way."
Cassadee Pope (Team Blake):  Perhaps the dark horse that no one saw coming, Cassadee continued to gain momentum last night, even earning high praise from Christina Aguilera who declared herself Cassadee's "Co-coach supporter." Blake, determined to get as much country as he can out of Cassadee, selected Rascal Flatt's "Stand," to which she promptly killed it with the precision of a veteran performer. For her own choice of song, Cassadee played it a little predictable with Avril Lavigne's "I'm With You," but the audience was rewarded for overlooking the obvious song selection with another stellar performance.
Amanda Brown (Team Adam): Originally one of the contestants thought to be a front runner, Amanda has struggled throughout the last couple weeks to stay consistent. Last night I think we found out why. When she took on Adam's song selection, "Natural Woman," she did a fantastic job, but she didn't seem to shine like she once did. For her second song, however, the one she chose for herself, she did more than shine, she glowed with excitement. As she banged her head and danced around to White Snake's "Here I Go Again," it seemed obvious that she is a rocker at heart and that being pigeon holed into the powerhouse diva role is what's killing her performances each week. So, note to coach Adam:  Let this girl rock!
Terry McDermott (Team Blake):  America's new favorite classic rocker did not disappoint last night as he took on Foreigner's "I Wanna Know What Love Is" in a stripped down type of performance that showcased how truly talented of a vocalist he really is.  The coaches were impressed and Cee Lo even claimed to have had a vision of Terry's family (I seriously love Cee Lo's philosophical comments) during the performance. For Terry's own song choice, he kicked it up a notch in the energy department and belted out Rod Stewart's "Stay With Me," leaving no one to question whether or not Terry is still in the game.
Trevin Hunte (Team Cee Lo):  Known for his powerhouse ballads, Trevin had a chance to change it up a bit last night with Cee Lo's song pick of "Walking on Sunshine." Admittedly, when I heard this song choice I thought it would be a disaster, but the kid really pulled it off and looked like he had a great time doing so. Shame on me for being a doubter. For his own choice, Trevin went full throttle on the ballad, choosing "And I Am Telling You I'm Not Going," and I can tell you that after that performance, Mr. Hunte is certainly not going anywhere.
Melanie Martinez (Team Adam):  Why, oh why does Adam love this girl so much? For his song selection, he chose Gnarls Barkley's "Crazy" for her to, dare he say it, "Melanie-ize." With a great deal of pitch issues, it did not go over as planned, however, Cee Lo was kind of enough to tell her he appreciated her take on the song. Giving herself far too much credit in the area of personality, Melanie selected the cutesy upbeat Lenka song "The Show," complete with childlike backdrops and props that should have been easy to make her look lovable and likable. Instead, she came across as uncomfortable and annoyed, something Christina noted, earning her an eye roll (the second of the night) from Melanie, to which the blonde diva stated, "She won't even look at me." Way to call her out, Xtina!
Now that The Voice is down to the final 6 contestants, results night is getting harder and harder with the reality that someone with a great talent will be heading home. Tonight, two more contestants will be sent packing, while the four others will live to sing another day and head to next week's quarterfinals.
The Voice airs Mondays and Tuesdays at 8/7c on NBC.