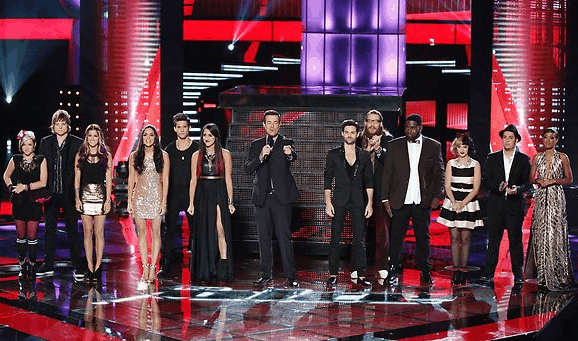 In a strange twist of events last night on The Voice, the contestants who looked as though they had it in the bag failed to bring it home, while the perceived under dogs gave surprisingly superior performances. Admittedly, going into last night, it almost seemed like a formality since it seemed apparent who would be going through to next week's live show, but now, if America truly votes for the best performances, I'm not so sure.
Team Adam seemed like the easiest of all the teams to pick who would represent on next week's show, with Amanda Brown appearing to be a virtual shoe in. Last night, however, Ms. Brown gave a somewhat off key and completely non inspired performance of Florence and the Machine's "Spectrum." Even the judges, who wanted desperately to praise her, did so only half heartedly. Melanie Martinez gave one of her better vocal performances with Young the Giant's "Cough Syrup," but the contrived emotion that came on the foothills of the judges praising another contestant for being emotional took away a bit from the overall believability of the performance. Bryan Keith, on the other hand, came out from under the radar last night and delivered an impressively smooth rendition of Amy Winehouse's "Back to Black" that left everyone wondering if he was more of a contender than he had let on.
Team Blake was a bit harder to pigeon hole in terms of who the favorite would be, however, in my head, it was certainly a tossup between Terry McDermott and Michaela Paige. Cassadee Pope, although an early favorite, just hadn't brought it, that is, until last night when she delivered a very strong and emotional version of Kelly Clarkson's "Behind These Hazel Eyes." This surprisingly impressive performance instantaneously propelled her to the front of Team Blake ahead of Michaela Paige, whose rendition of Pink's "Blow Me (One Last Kiss)" was not nearly as good as her performance the week before.  Just when you thought the competition was getting turned upside down, however, Terry came in and proved that he was still a front runner with a performance of "More Than a Feeling" that left the judges (almost) speechless and the crowd going wild.
Still keeping the trend alive of front runners failing to impress was Team Christina with major contender Sylvia Yacoub faltering a bit with her version of Celine Dion's "My Heart Will Go On." To be fair, it would be almost impossible to outdo the original and she gave it her best shot, it just didn't add up to a performance that left anyone really excited. Wannabe heartthrob Dez Duron made his best appeal to America to vote his handsome face through when he crooned "Can't Take My Eyes Off of You" to the studio audience and gave a smoldering one eye brow raised stare to the viewers at home. Surprise top twelver, Adriana Louise, gave one of her best performances with Carrie Underwood's "Good Girl," but since she didn't catch America's eye last week, I'm afraid she might be heading home sooner than later.
The most difficult team to pinpoint for me was Team Cee Lo since I really like all three contestants that are left. Cody Belew, who sang Tina Turner's "The Best," makes me smile and I can't help but have a soft spot for him even though I know he's not the next winner of The Voice. Nicholas David gave another great performance with Huey Lewis's "Power of Love,' but didn't appear as comfortable as usual, most likely due to the fast tempo that he typically steers clear from. Trevin Hunte, who is another front runner, bucked the system last night and refused to fall into the trap the other contenders had fallen into. He delivered a powerful (as usual) performance of "When a Man Loves a Woman." Although not his personal best, it is still surely enough to keep him safe this week.
Tonight on The Voice, the results will be revealed live and the two contestants with the lowest number of America's votes will be sent home packing. The judges, while they continue to offer advice, mentor, and try desperately to point America to the contestants they want to keep, will have no say as to who will be leaving the competition.  While it's a tough call and there's no way to know which way the viewers will vote, I have a feeling that Team Adam and Team Christina are about to get a little lighter.
The Voice airs tonight at 8/7c on NBC.