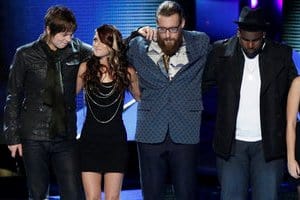 The competition has narrowed and become more intense than ever on NBC's The Voice and we have highlights from the remaining contestants right here.  Let's have a look and comment on the Top Four and who WE think will win this cycle of The Voice.
Tonight the theme was Christmas songs, naturally, and the final four were able to preform both traditional tunes and tunes that reminded them of Christmas.  Aw.
Let me remind you that the competition has come down to Team Blake vs Team Cee Lo, with team Blake looking very good with Trevin Hunt and Nicholas David, while Team Cee Lo has a very likely winner with Cassadee Pope and Terry McDermott as a back up.
Trevin Hunte: "Wind Beneath My Wings" by Bette Midler
Yipes.  Too late in the game to have those performances that start off warbley and weak and then gain power.  Trevin was painfully off key and time here.
http://youtu.be/4WZEaLuqxYs
Nicholas David: "You Are So Beautiful" by Joe Cocker
If anyone can win it for Team Blake it is Nicholas David.  Unique doesn't begin to describe this guy, but the dude has just an organically pleasing voice that doesn't sound like the product of hours of practice with a stern vocal coach that wears a crop in a holster.
http://youtu.be/e5Cjdb6lYK8
Cassadee Pope: "Stupid Boy" by Keith Urban
I don't care if you say Cassadee Pope is selling out her Hey Monday roots by doing The Voice, the girl deserves fame dammit … and you're going to give it to her.   I'm a little weirded out by her taking on a country song in such a low register, but she ecks by this week in my book.
http://youtu.be/l0gV_5dZGms
Terry McDermott: "Let It Be" by The Beatles
My problem with this is that Terry sounds too much like Paul McCartney.  It's not an interpretation, it's just a cover.  Terry's homecoming segment with him surprising his son is the real winning point for Terry tonight.
http://youtu.be/fwvy4i679oA
So who do you think will win The Voice, and who will be going home next?  Sound off in the comments below.