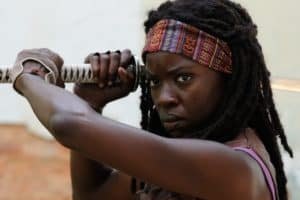 I am a sucker for the Walking Dead. From the comic to the show, I love everything about it. While some may complain that the show deters too much from the comic, from the stand point of one fan who has read the entire series and watches the show, I tend to really appreciate it. It allows me to approach the show knowing that some of the stuff I see will be brand new to me. Having said that, AMC has leaked some footage from season four of The Walking Dead, and it has one thing that the comic AND the show seems to have in spades.
Killing zombies.
They do a great job of representing Michonne on the show, though the character in the comic has had to endure WAY more. We will see this season if some of that ordeal from the comic plays out. Honestly, to anyone familiar with what I am talking about, we kind of hope it doesn't. It is some really grim stuff.
A couple things we really hope to see in season four:
More conflict arise within that group. That is, afterall, the point of this comic. That WE become the monsters.
More zombie conflicts. Though the jail amped up the action a bit in season three, the show still needs more zombie-on-human violence to ratchet up the tension.
More with the Governor. The introduction to The Governor and his town of Woodbury last season was kind of a tease, and we would like to see more play out with this character, showing all the world just how sick he really is. You think you have seen the worst the Gov has in store, but you haven't.
With The Walking Dead season four only a couple months away, better start sharpening your katanas and rationing your supplies, now.