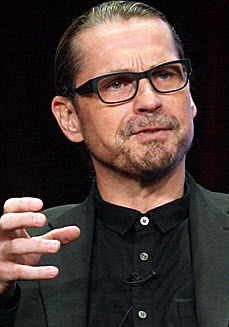 I always like hearing prominent figures in television speak their minds, and today we can look no further to Sons of Anarchy's Kurt Sutter, who I just now realized is Otto. What? I'd never seen a picture of the guy before.
He's absolutely lambasting AMC for letting showrunner Glen Mazzara depart for season four The Walking Dead. Why is he so mad? I'll let him explain:
"AMC is run by small-minded, bottom-line thinkers who have no appreciation or gratitude for the effort of its creative personnel. Time and time again we see events like what happened today with Glen Mazzara,"

"Without [Mazzara], that future is dim. Showrunners are not development executives, we're not cookiecutter douchebags that you plug into a preexisting model. TWD will suffer. Even Zombies need consistency. Mad Men and Breaking Bad will be gone soon. So will AMC."
He's right, and The Walking Dead has suffered at the hands of too many cooks. This season is FINALLY where things got back on track after Mazzara took over at the end of season two, and to hear he's departing was sad news for everyone. The man clearly knows what he's doing in the universe, why not have him stay? I may not agree with Sutter's phrasing or the idea that AMC will be dead soon, but AMC really needs to put their thinking caps on when it comes to handling the future of their most valuable property.