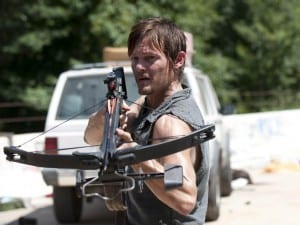 So The Walking Dead premiered last night, and it was, well, different. Understand, this is not an official review of the episode. We will have one of those up shortly. This is just my thoughts about some moments in last night's episode that really seemed strange to me. There was a couple huge missteps by The Waking Dead last night, and I just wanted to address of few of them to make sure I am not alone in this.
First off, many months had passed since the end of last season and this season's start. No, I don't mean in real life, I mean on the show. That was odd and quite jarring. Suddenly, the jail has a whole cavalcade of new people? None of whom we really get a fitting introduction to? That was the first problem.
Next up, without spoiling anything, Rick has apparently has done a complete 180, and instead of trusting no one, seems to trust anybody. Even a strange, dirty looking person he probably shouldn't be trusting. This stood in opposition to the Rick we spend all of season three getting to know.
Then, for some odd reason, Michonne smiled. A lot. One thing about season three that really worked was how perfectly Michonne was cast and portrayed. Now, we see five minutes of her, and the whole time she has this big, goofy smile. What kind of sense was that?
Last, Carl looks sixteen and looks way too much like Josh Hartnet now. That is just not okay in my book.
So those were just a few things I found jarring about season four's Walking Dead premiere. What did you think?