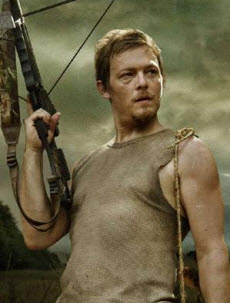 Many fans of The Walking Dead have been wondering exactly why showrunner Glen Mazzara was given the boot after producing what many would call by far the best episodes of the show to date. There were few ideas as to why this happened until now.
A source explains to THR exactly who had a problem with Mazzara, comic creator Robert Kirkman.
Several insiders confirm that Kirkman, whose detailed graphic novels form the basis of the series, is "very proprietary," as one puts it. One adds, "I believe Robert wants to maintain a certain amount of his control, and AMC needs Robert for the fan base." But despite the vitriol, some sources involved with Walking Dead say Kirkman was one of several producers who had issues with Mazzara and his vision.

One source says Mazzara's shortcomings in running the series during the most recent third season became "abundantly clear…especially for the second half of the season." This source says production was shut down "several times" because of a lack of material.

To date, Kirkman has responded to the criticism only with a restrained tweet: "@sutterink is brilliant and Sons is my favorite show on TV. Still, it's upsetting to see him ranting about things he knows nothing about." AMC declined comment.
So the story is that Kirkman wasn't a fan of Mazzara, and so that's why he had to go. I really don't buy this "AMC needs Robert for the fanbase" thing. Yes, there are viewers who have read the comics, sure, but there are way, way, way more who enjoy the show simply for what it is, a badass show which was recently made more badass by Mazzara.
And having read both, I firmly believe the show has improved upon the comic in many ways, though it may be blasphemy to say that. It seems to me the farther the show gets from the comic, in fact, the better it actually is. For example, keep in mind that perhaps the most beloved character on the show, Daryl, wasn't even IN the comics.
If AMC starts siding with Kirkman over those who know how to make the TV show pop, they're going to be in for a rude awakening when their audience departs if we have to sit through another dreary season two.