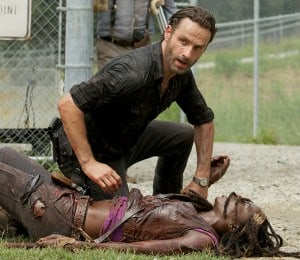 There were some truly devastating moments on season three of The Walking Dead. From Merle finally meeting his unfortunate end, to the way the Governor changed the whole dynamic of the team by winning over Andrea, much changed for our favorite group of survivors. But a new preview of season four has leaked on TVLine, and it looks like there may be more drama facing the crew of survivors. Only this time, making the group dynamic switch up even more, it is clear to see some of the biggest threats and turmoil are coming from within. From one of them.
Watch the clip yourself here, and you can clearly see that there seems to be some turmoil coming from someone IN the prison with them. Though the preview shows a great many new cast members living in the jail with them, it is clear that we may not know who, but one of those people is working with some truly nefarious intentions. I actually have read the entire comic, and can tell you, if you thought season three was dark, things will happen in season four that will turn your hair white. Things go from scary to disturbing, really quickly, and it is only made more disturbing when your realize the fiercest of creatures they are dealing with are their own kind, and the horrors that humans can do to one another.
Walking Dead has always been a gritty show, dealing with heavy, intense issues, but be prepared, because this story only gets darker and darker, the deeper into we go. And this preview of season four is showing us, as far as dark goes, we aint seen nothing yet.