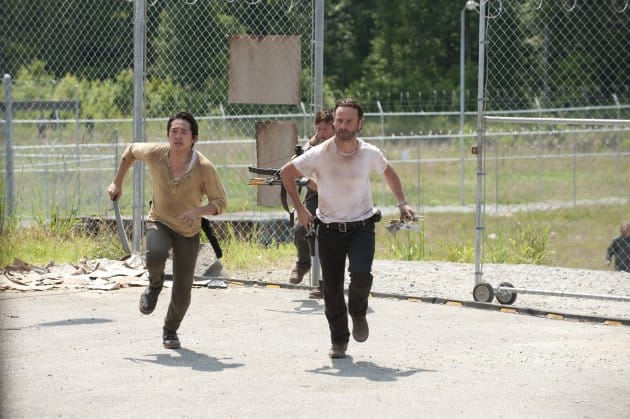 The Walking Dead's third season has already made huge changes in the characters as well as the locales.  We've seen Rick's group shift between extremes; indigent scavengers living on fear and constantly on the run, to the well supplied, well protected haven of the prison; and of course the gruesome battle that lay between.  With this week's "Walk With Me", we also saw something quite unexpected: a pocket of humanity where civilization seemed to be taking hold, under the guidance and 'wisdom' of the charismatic sociopath called The Governor.  The most significant changes, however, may be yet to come.  Warning: spoilers ahead.
I caught a peak at The Walking Dead 3.04 "Killer Within" this past week.  As a summary review I would say it is probably the best episode of The Walking Dead to date.  Of course pilots always have a sort of 'position zero' in the list of the 'best' episodes of any series, but believe me: when I say "Killer Within" is number one, I don't mean 'among the best', and I definitely do not mean the number one spot is a toss up in any way.  Without blowing any of the major reveals absolutely, let me drop some big hints on what you can expect.
Action
The taking of The Prison was sort of the pinnacle of action for The Walking Dead as a series, until "Killer Within".  If taking The Prison showed us how Rick and company had become experts in zombie killing, "Killer Within" shows us how those skills hold up when the group is divided and unexpectedly invaded by walkers.  A whole herd of them.  The result is an intense chase and fight sequence that will have you on the edge of your seat.
Dodging Bullets
Is there any question that Andrea and Michonne will never leave Woodbury without resistance?  The Governor is affording them every opportunity to stay in Woodbury by their own choosing, and his offers to let them leave with their weapons are becoming more and more difficult to believe.
NEXT:  Fate Wins, and Drama Surges