The Walking Dead season 2 continues with its second episode "Bloodletting," but how does it hold up to the comic book continuity? The group is split as Rick and Shane fight to save Carl's life, while the others look for Sophia and Dale and T-Dog hold down the RV back on the freeway. So what's next for The Walking Dead?
As AMC's incarnation weaves in and out of storylines from the books and adds its own original characters and development, we've compiled an in-depth guide for fans of the comic as well as AMC's The Walking Dead to enjoy. Check it out, and let us know your opinions of The Walking Dead's "Bloodletting" in the comments below!
-AMC
FLASHBACKS
AMC: Before we return to our zombie-filled present, Shane (presumably) flashes back to the afternoon where he told Lori of her husband's shooting, moments before Carl gets out of school and learns the news himself. It makes for an effective parallel with Rick having to deal with Carl's shooting in the present.
THE COMICS: As mentioned previously, The Walking Dead rarely relies on flashback, its only real trip into the past being issue 7's opening, where Lori remembers her one-night stand with Shane as she looks over his grave.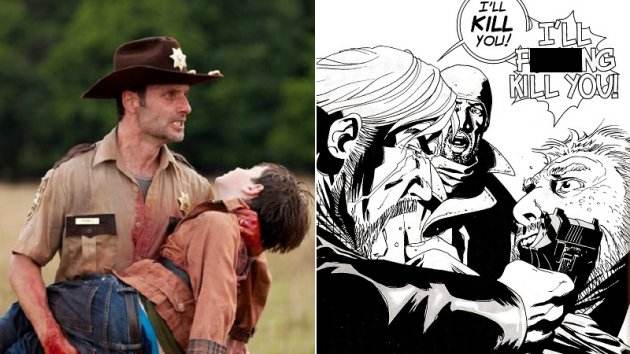 -AMC/Image Comics
THAT DARN OTIS
AMC: Having seen the dramatic events of last week's 'What Lies Ahead,"Bloodletting'picks up immediately with Rick running for Hershel's farm with Carl in his arms, as Shane helps Otis keep pace to point the way.
THE COMICS: Although it may have simply occurred off-camera, Rick went a bit off the rails once Carl had been shot, threatening and putting a gun in Otis'mouth before even realizing that Carl might still be alive.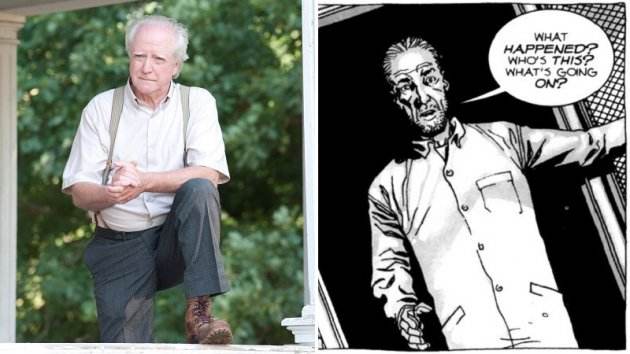 -AMC/Image Comics
HERSHEL GREENE
AMC: The onscreen version of The Walking Dead's Hershel seems a bit more traditional than his comic counterpart, but still maintains the core traits. He gained his knowledge of medicine from being a veterinarian, and readily helps young Carl. In moments alone with Rick, he mentions that he lost his wife and stepson to the 'plague,'but believes man will survive the zombie apocalypse.
THE COMICS: Mostly the same, though the comic Hershel Greene carries a few differences (beyond the physical) in his first appearance. He too readily helps with Carl's shooting, but lost his wife six years prior, had no stepson, and only took over the farm at the request of his dying father.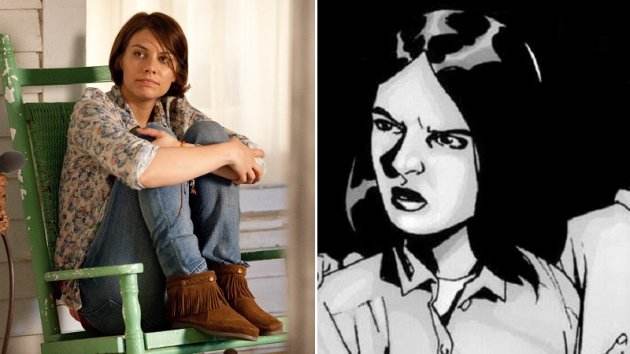 -AMC/Image Comics
MAGGIE GREENE
Lauren Cohan's Maggie so far seems about every inch her comic counterpart, despite shorter hair and a bit more badassery with her horseback zombie kill. Of course, AMC's Maggie has yet to meet Glenn, so we won't be able to gauge her similarity to the comics that effectively just yet. Pretty, though!