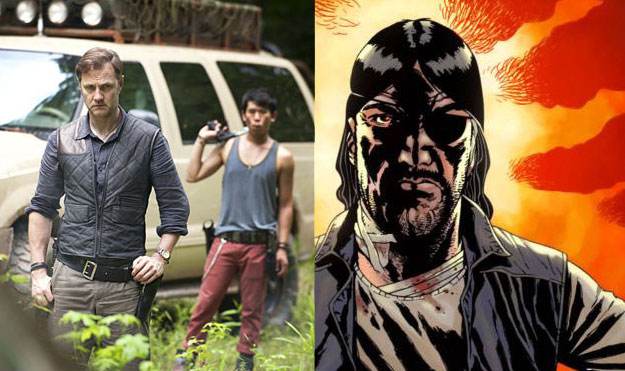 Season 3 of AMC's The Walking Dead will introduce one of the comic's most vile bad guys: The Governor. It seems like ever since the series was even announced Walking Dead fans have been clamoring to know if The Governor would appear, and who would play him. The casting of David Morrissey answered those questions, now a lot of fans want to know what The Governor will look like – and fans of the comic might be a little surprised.
In this pic from TV Guide, we get a look at Morrissey's incarnation of the Governor for the first time. Far removed from the long haired, filthy, eye-patched visage from the comics Morrissey's Governor appears relatively clean cut, but packs quite a scowl. Opinions are going to be popping up all over the place, but from this writer's point of view this is a good thing. Since AMC has already shown a willingness to play fast and loose with the mythology, we really know nothing about the series version of The Governor, therefore stripping him of all his tell-tale bad guy cliches isn't such a bad thing at all.
It's almost as if the producers of The Walking Dead are giving their Governor somewhat of a clean slate, upon which to draw their own brand of Governor ugliness. Could this transformation mean a lighter character? Possibly, although The Walking Dead has hardly held back in any respect visually or psychologically.
Certainly one of the challenges for AMC with season 3 of The Walking Dead is re-engineering the Prison/Governor phase of the story in a way that keeps the happenings fresh and exciting, while avoiding the immense wave of potential spoilers that could arise from readers of the comic. It won't be easy. Some of the most extreme, bizarre, and memorably cruel and violent moments of the comic series take place during the time of the Prison and The Governor. The Walking Dead brain-trust will either need to figure out how to integrate some of those iconic moments in an original way that serves their slightly skewed narrative–ala, Shane's extended life and subsequent zombification–or come up with some fresh horrors of their own, which hasn't been much of a problem so far.