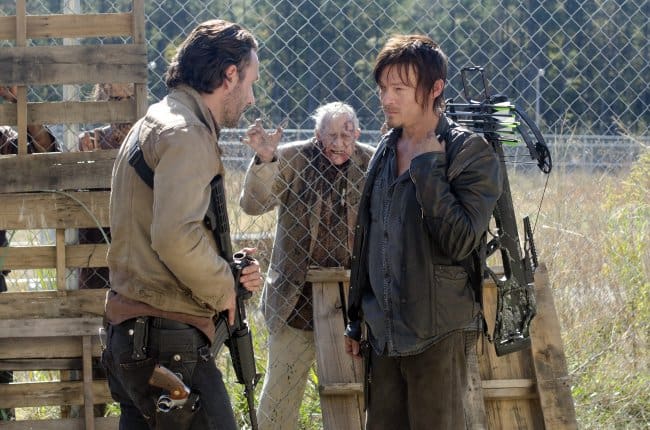 This week's Walking Dead, "The Sorrowful Life", was a standout episode in terms of its character-redefining power.  Layer after layer of interactions left Merle a man questioning his identity, and ultimately choosing the path of a hero. First was Rick's appeal to his common sense by asking Merle if he was even aware of what drives him to do the things he does.  Then Carol's further probing into his sense of loyalty to Daryl and how, whether he likes it or not, that loyalty was inextricably linked to the group.  Probably the most potent moments were with Michonne, who alternated between head games and good old fashioned reason.  Ultimately, Merle paid the ultimate price for his choice.  Maybe he knew it was a suicide mission all along, personally I think Merle was too cocky to think he wasn't going to walk out of that showdown alive and return to the prison as someone they could respect, if not like.
What "The Sorrowful Life" failed to do in any major way was setup the finale.  For much of the episode, the finale still seemed a long ways off.  The argument might be that we don't necessarily need a setup at this point.  The Governor will attack The Prison with his army and a lot of people will die including, presumably, The Governor.  Case closed. It really does seem to be written on the wall at this point, and fans of the original Graphic Novel know, of course, how it all plays out in the books so why think it could end any other way?
If anything, the series has used preconceptions based on the comic's plot against those viewers to bring about some pretty extreme twists.  Although even without that as a precedent, Walking Dead has rarely tied things up in a way that was expected.  With that in mind, let's look at three speculations for how the season could end, but first the ground rules.  WARNING:  Spoilers in the clip below.
http://youtu.be/XJPDKp-NqwA
First of all, for watchers of The Talking Dead, the Walking Dead after-show that is required viewing, know courtesy of AMC that The Governor arrives at The Prison with his crew and it appears, to an extent, to be deserted.  Add this to scenes of Rick and company packing up and we can assume that the bulk of the action does not take place at The Prison.
Next, it is widely rumored that The Prison/The Governor story arc will be completed so the story can move on to another plot-line from or reminiscent of the comics.
Finally, any good theory must also determine the fates of Tyreese and Sasha.  Tyreese was a fan favorite character from the comics and it would make sense that he will continue on in the series.
NEXT:  Maybe They Don't Really …