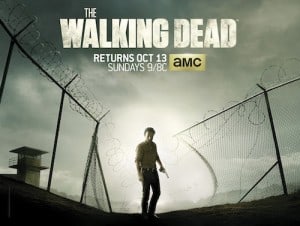 As broken by TVLine earlier today, AMC has released its first official poster for the impending season four of the much-hyped fourth season of The Walking Dead, and while it may look deceptively simple, you need to spend a minute looking at it to realize, the split fence could be mean a lot of things. As a fan of the series, let's (say it with me people) speculate.
While some look at that fence and think "break in", can it really be that simple? What about break-out? Or what if, like some shows so love to do, the fence, divided in half behind Rick symbolizes that half the survivors are with him, and half of them are against? We can look at the fence as literal, or we can look at it as figurative, and in switching up that view, it switches up exactly what they may be telling us.
One thing it does show us, The Walking Dead looks like it is going to take some pretty serious turns. I genuinely hope they take the cue from the awesome Telltale Walking Dead games, and realize, they need to kill off more of the people we love for the impact of this scenario to really sink in. I can also tell you, if the series goes in the same direction as the comic, some VERY bad things are going to happening at the prison this season, and it might be in our best interests to tune in see just what unfolds. Just be prepared to be disturbed.
Also worth tuning in to season four of The Walking Dead to see if that fence break is literal or metaphorical.