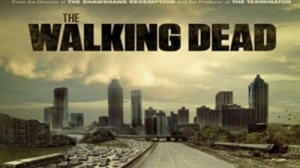 TV Line broke the story , and I cannot decided if I should be extremely happy, or extremely upset. It seems AMC is working on a spin off show to The Walking Dead that they intend to drop around 2015. This gives me two and half years to prepare myself for whatever it may be, but seriously, what will it be? Will it focus on the universe, the zombies, are are they going to pluck one or two characters and focus on them?Well, we can tell you what we know, which isn't much.
All we know so far is AMC will be working with the some people who are behind-the-scenes on the current Walking Dead for this spinoff, which will feature "An all new cast of characters". Robert Kirkman has responded with delight, claiming that being able to tackle the zombie apocalypse with an all new blank canvas will be incredibly exciting for him, and he is excited to see what the fans will think. While it quite obvious to be a cash-in, there is a great deal of buzz about season four (with Kirkman himself saying it is easily the show's best so far) so maybe some more time in the zombie ridden world (ooops, I mean "walkers") would do us some good.
Truthfully, I am one who gets hesitant when I hear things like this, especially if it is a property that I love as much as I love The Walking Dead, but I won't knock this spin-off until see it, and we still have quite a few years for that, so in the meantime, season four drops next month, and I hope ya'll are ready for some carnage.