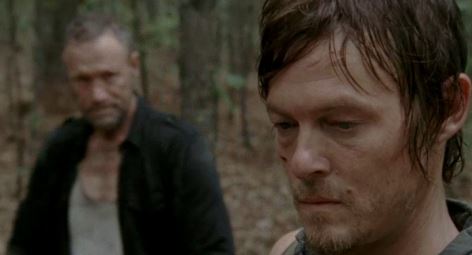 We're almost up to a brand new episode of The Walking Dead, and just 6 episodes from the season 3 finale, so naturally the series is starting to hemorrhage juicy rumors, hints, and spoilers of what is to come in the near future.  We've got the low down on some of the more surprising tidbits for you right ahead.  Spoiler-phobes … you have been warned.
The Merle Factor
In case you're wondering, Merle is not welcomed with open arms despite his heroics last week.  We saw Merle begin to cave to his little brother's wisdom and it seemed sincere, but don't expect a Merle 2.0 in coming weeks.  He will keep his snark contained, but it will—thankfully—be intact.
In 3.11 "I Ain't a Judas", Glenn confronts Daryl and Rick over the presence of Merle.  After Rick tells Glenn that Merle is staying, Glenn actually invokes Shane, stating he'd never make Rick live with Shane after he'd tried to kill him.  Ouch.
Preparing for War
The Governor's plan for absolute revenge is coming into focus as he begins to conscript suitable citizens of Woodbury into a private army.  The recruitment is done under the guise of strengthening their security detail, but make no mistake about;  The Governor has a very short term plan to finish his business with The Prison, Rick, and particularly Michonne.