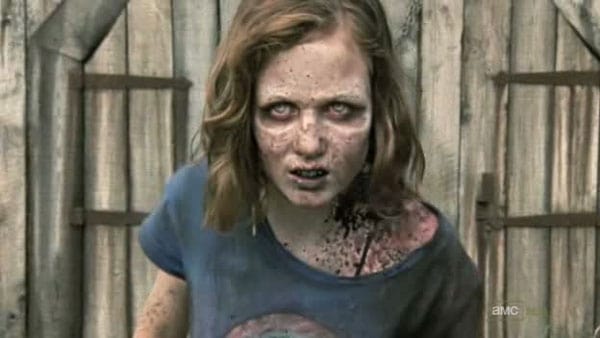 The Walking Dead returns this Sunday, February 10th, after what seems like an eternity. I've done everything I can to alleviate the tortures of waiting:  Romero films helped a little, re-watching Seasons one and two just made me more depressed.  I think you Walking Dead fans out there will feel me when I say these hiatuses are just intolerable.  At least I had time to think, a scary thing to itself.
I was not a huge fan of the comics until the series started up.  I liked them, but the pacing of the comics vs the series is kind of a problem for me.  The shocking character moments that are the signature of The Walking Dead come too fast and don't really have a settling in period like they do in the series.  There are no long cons like "Sophie was in the barn all along".  Season 3 definitely comes the closest to replicating the staccato assault on the senses of the comics, yet with just the right amount of 'settling in' time to allow the zingers to burn on their way down.
Now that I'm fully indoctrinated to the world of The Walking Dead, I've developed a new appreciation for the comics and I've begun to blush with glee as the series begins to take on the almost sadistic nature of the comics. I'm beyond the "I can't believe they did that" stage, and fully committed to "my favorite series has big story balls."  So I figured, why not compose a list of key things that occurred in the comic that probably won't happen in the series, but should.  Comic spoilers (and therefore possible series spoilers) ahead.