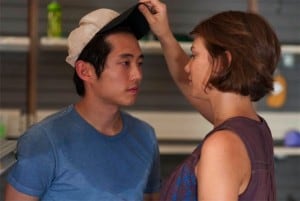 The first rule about The Walking Dead, whether you know it or not is, do not get attached to any characters. Robert Kirkman has a lot in common with George R. R. Martin regarding killing off characters. But what about hope? We need hope now and then, right? Without any form of hope, what is the point? Well, Walking Dead fans may get hope this forthcoming season from the potential marriage of Glenn and Maggie. But right now, with details of the season being scarce, all anyone is saying is: Will they or won't they have a ceremony?
Lauren Cohen, who plays Maggie on the show, recently told TV Line that the two characters begin the season in a great place more in love than they have ever been.  They are bonded over all the madness that went down last season with the Governor. But will they have an actual ceremony, or will that bring more attention and trouble? That is where the actress became a little more vague. "Whether there is a wedding or not, we'll see" is all she cryptically told the website.
We have two ways we can see this.
One is a private little ceremony, somewhere quiet, with just those two. A way to observe that they have taken the next step. Two is a large full scale ceremony that attracts every walker for miles and turns into a crazy ten minute action scene. As much as I love those two, I think I would hope for the second one because it sounds like it would make a better episode.
Either way, tune in this Sunday to see the first episode of the new season of The Walking Dead on AMC.