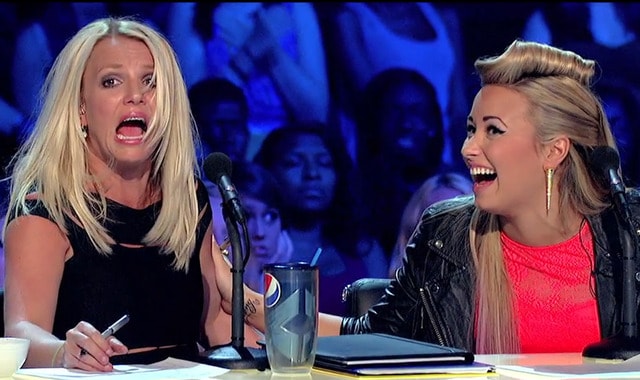 Last night's The X Factor got off to an interesting start with the introduction of 17 year old Willie Jones, a young man with a "Fresh Prince of Belair" sense of style. As his music began to play, viewers and judges alike were floored when he launched into country tune "Your Man (Baby Lock Them Doors)." With Simon declaring it "a day to remember," Willie earned his place in the next round.
Also impressing judges was Julia Bullock, whose band mates accompanied her to the auditions, but not onto the stage. One of the band mates was clearly excited for Julia and the other, who also happened to be her ex boyfriend, watched her knock her version of "Pumped Up Kicks" out of the park with clear disdain and contempt.  Jeffrey Adam Gutt, the single dad to four year old Talan, wowed both the judges and audience when he delivered a gritty, but amazing version of "Hallelujah" that left Demi telling Adam's son "Your dad is a rock star!"
Earning herself a second chance during the auditions was 21 year old hairdresser Krysten Colon, whose first shot at auditioning left Simon declaring that she wasn't being herself. He offered her a rare second opportunity to come back later with a "classic song" that had a strong melody. When she returned later amidst the thunder storms that left Britney freaking out and dropping F bombs, she attempted Whitney Houston's "I Have Nothing," which pretty much summed up what she had to offer as well. When a giant clap of thunder and power surge brought her song to a halt, the judges informed her that it was for the best and that she would not be moving on to the next round. Upon hearing this news, the formerly sweet and nervous Krysten turned into a WWE wrestler of sorts backstage complete with shouting and chair throwing. After being asked to leave, the seemingly unstable contestant ran off into the rain, leaving an embarrassed family behind to apologize to cameras.
Although it had its odd moments and fair share of strange auditions, Greensboro managed to offer up a few more gems to add to The X Factor talent pool. Next week the auditions continue as the judges' search for the one who does indeed have 'The X Factor.'
The X Factor airs Wednesdays and Thursdays at 8/7c on Fox.