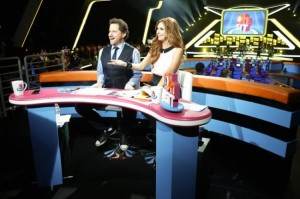 "It's kind of a metaphor for America: get out of my way or I'll push you," host Jamie Kennedy said of The CW's new musical chairs/obstacle course game show Oh Sit!
"Really the musical chairs is just a gimmick to get the show, but really it's much more than that. Great bands, a crazy course, crazy competition, great contestants, a lot of drama, a lot of off the cuff comedy, a lot of unscripted nuts," he continued.
It was a trippy experience to visit the set of Oh Sit!, filmed this summer at a soundstage on the Sony lot in Los Angeles, but we have to imagine hearing the pitch from your agent to come host such a show would be even crazier. Tanika Ray, whose job it is to be on the course, interviewing the contestants after each elimination round, admitted that her initial reaction was not a positive one, but she embraced her adventurous and eclectic side and has been happily surprised by the actual show's journey.
"My initial reaction was 'A frickin' musical chairs show? How sad is TV today!?'" Ray was candid. "But it's on a whole other level, and I think people are going to get jazzed watching it, honestly. It's Wipeout; it's a little bit of a concert; and the humiliation aspect really works."
After all, Kennedy himself called Oh Sit! the closest version of a Japanese game show we may ever have here in America: "This is adult inappropriate entertainment wrapped up in cotton candy!"'
Jessi Cruickshank, Kennedy's co-host in the commentator's booth, admitted that she wasn't sure about the initial pitch for the show, either, but what really sold her was how fresh and funny she'd get to be.
"You can't take yourselves too seriously when you're watching people in Spandex pants and helmets fall into a pool on national television. So, it's not a serious game show. It's fun and light and kind of stupid, and it's really funny," she pointed out, noting that Kennedy especially tries to get away with a lot of scandalous comments.
Oh Sit! takes twelve contestants, puts them in the aforementioned Spandex, jersey-style tee-shirts, elbow and knee padding, and helmets at the start of every episode. A handful of "referees" stand around the obstacle course keeping an eye out for 'clipping' (attacking from behind), which is really the only seeming illegal move on the course, as they run to the music of a live band.
"We have six rounds, and the course gets changed every round, and I think that's why it's going to be a hit—because everyone watching it on TV is going to think it's easy," host Ray explained.
"I love how different this show is, and I love running around. I feel like I'm perfect for the track. I get to be active, and I get to make fun of people in their face…I'm ballsy like that."
In the center of the course sits a platform holding a finite number of chairs (after each round, an additional chair is removed, forcing more and more players out), but between the platform on which the contestants run laps—earning more cash for each completed lap—and the platform with their coveted chairs, lies a pool. So that in the sixth and final round, the contestants are forced to swim to their seats.
"You've done five really grueling rounds," Kennedy previewed. "And then you have to swim and climb up, and you know, you have to swim to, like, POD. Puddle of Mudd's playing in the background. It's a Japanese game show. It's big; it's loud; it's crazy. God bless all of the singers we have in America, but I mean, how are we going to play them all? We need more people who can sit in chairs. We're starting a new job category!"
Will you tune in to see who ends up in the pool when Oh Sit! premieres on The CW on August 15th at 8pm? Watch a preview below.