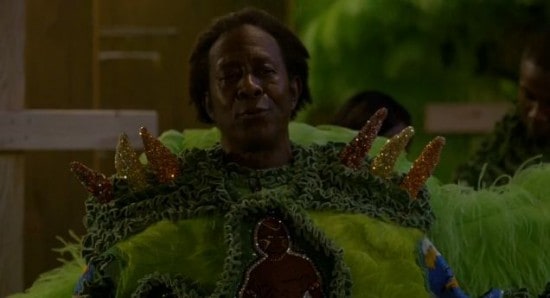 Recently on Treme, Janette has been growing more disillusioned with her new restaurant and the partnership with Tim. Although she's happy to be home in New Orleans, Janette's not comfortable with being the face of such a large, established establishment; she's the type of chef that likes to have full control of her kitchen, an experienced wait staff that makes very little mistakes, and all the little things taken care of before opening. Being able to expose her talent to a wider sect of people might be a substantial pro that any chef would jump at, but it might not be enough to keep Janette's head (and heart) in the game.
On the next episode of Treme, Janette will be adding another item to the "con" list of her time in the spotlight – the signature dish. She's always been a chef that enjoys the freedom and variety that comes with cooking at a smaller place, but when the crawfish ravioli gets popular at her new place, you can almost feel her heart dropping. Janette could likely handle all the corporate mumbo jumbo that comes with being in a larger place if  her time in the kitchen wasn't affected by the transition, but it was inevitable that the experience ultimately wouldn't feel the same. A lot of chefs would kill to become noticed in a city like New Orleans and have people clamoring for a dish of theirs; however, Janette would rather stay small and now, she's stuck in a situation that she thought would be much better than it is.
Elsewhere on Treme, LaDonna learns who's been threatening her, Toni may have more evidence against Wilson, and Terry asks for a transfer from the department, which has grown increasingly hostile and distrustful of him.
Treme airs Sunday at 10:00 on HBO. The show was renewed for a fourth and final season in September, which will consist of five episodes total. Production began earlier this month, though no premiere date has been hinted at yet. To talk about all things Treme, you can check out the TVOvermind Treme discussion forum here.
Do you sympathize with Janette not having the freedom to cook that she once did? Will Toni gather enough evidence to take down Officer Wilson? Can Terry get out of the department's crosshairs before one of the frustrated officers tries to physically harm him?