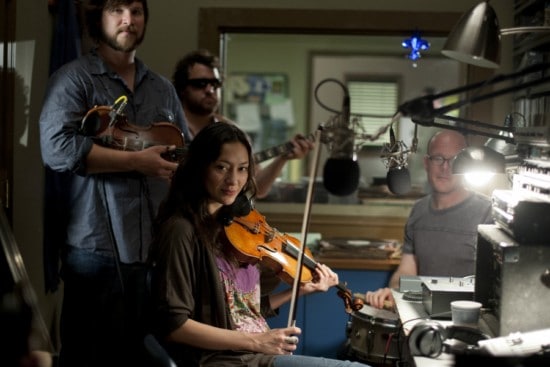 It's Carnival time on Treme and this year, the festivities find New Orleans in much better shape that previous years. Financially, spiritually – the foundation of NOLA has grown in strength and Mardi Gras will be more of a culmination of that progress and provide the residents with a chance to celebrate how far they've come. In prior years, Carnival had been more of an escape, a way to put thoughts of homelessness, crumbling infrastructure, delayed governmental aid, and a seemingly hopeless future to rest for a time. New Orleans might be not where its residents would like it to be, but it's getting there and now's the time to reward themselves for making it to this point.
On tonight's episode of Treme, the Carnival spirit isn't limited to only New Orleans, as Nelson and Annie are both in Washington D.C. for a Mardi Gras Ball. Nelson is, of course, attempting to charm any and everyone with a little authority in hopes of getting a federal position, while Annie has been invited to sit in with the Neville Brothers and play the Ball. Both have seen their careers grow during the third season of Treme and a trip out of the NOLA bubble might be the best thing for them to continue expanding their reach. Annie, in particular, has been a touring machine this season and being able to play with the Neville Brothers, along with getting her record deal and a new manager, shows that the dedication she has for her craft is paying off.
Elsewhere on Treme, Toni meets up with Judge Gatling at Galatoire's, Janette looks to Emeril Lagasse for advice ahead of the opening, and Sonny works on rebuilding his relationships with Linh and Tran after falling off the wagon of sobriety.
Treme airs tonight at 10:00 on HBO. You can check out the TVOvermind Treme discussion forum here.
How do you think Annie's gig with the Neville Brothers will go? Was Sonny's return to drugs/promiscuity a one-time manifestation of his fear of being loved, or will he return to it again at some point? What type of advice will Emeril have for Janette about the restaurant business?