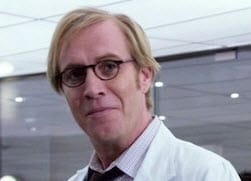 It's not even news anymore that film actors are heading to TV these days, as the medium proves its one of the best storytelling vehicles around. But Showtime really is assembling quite the cast for its new comedy pilot, Trending Down.
Originally, the show starred Phillip Seymour Hoffman and Katherine Hahn, and now it's added The Amazing Spider-Man's Rhys Ifans to its roster.
The show stars Hoffman as an advertising man made obsolete within his own company as youth take over the office. Ifans has been cast as his boss, and something tells me the two won't have a warm relationship.
The show is still in its pilot stage, but something tells me with that cast and concept, we'll see it made into a full series. Showtime has been struggling lately with quality, at least in my estimation. Dexter has gone steeply downhill, Ray Donovan is beloved by few, but almost a running joke for most. Homeland had insane buzz for a time, but we'll see if it can maintain that as the show goes in a different direction.
They really could use a solid comedy to diversify their current line-up, and I'm definitely looking forward to seeing Hoffman in the starring role on this.