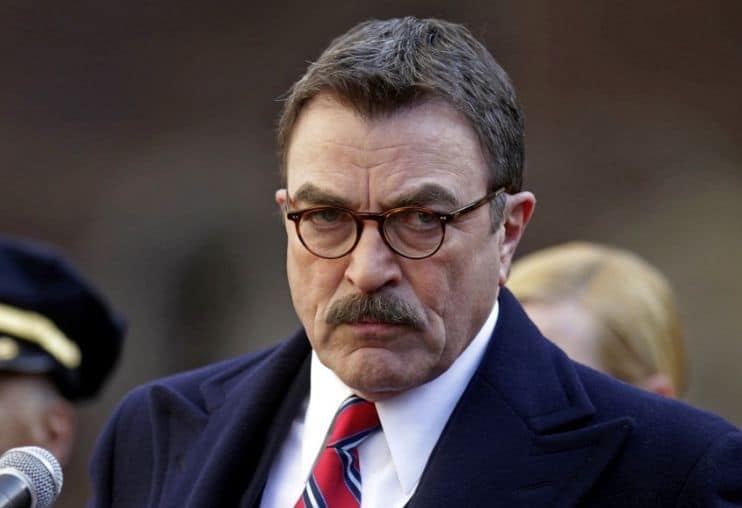 Since television began, America has had a love affair with manly men on the small screen. In the early days, most of them were cowboys like Chuck Connors in "The Rifleman" and James Arness in "Gunsmoke". Now we've evolved quite a bit and our favorite manly men often wear suits and even eyeglasses like Tom, Kiefer, and Michael. But, more about them later. OK, let's face it, many of us still love seeing a manly man shirtless, like Justin Hartley who never seems to get a single role that doesn't write him into the script as shirtless in multiple scenes, but who's complaining? He looks great and we expect to see lots more of him in the near future when the new season of "This is Us" starts on January 10th.
And, we thought that an honorable mention for several guys who are some of the manliest men ever and aren't on the small screen right now and they would definitely have to include Ron Swanson in "Parks and Recreation" [also loved him in the movie "We're the Millers"], Matthew McConaughey in "True Detective" [who BTW says he's open to doing episode 3], and all the hunky country singers like Deacon and Will in "Nashville."
1. Tom Selleck as Frank Reagan on "Blue Bloods"
Tom is definitely the stuff that television legends are made of. Since his days on "Magnum P.I.", he's been an American icon because all the women loved him and the men, well they just wanted to be him. In "Blue Bloods, Tom is playing the New York Police Commissioner, Frank Reagan, as well as the Reagan family patriarch; and it's a family made up of a lot of people in law enforcement. Tom's performances on the show are inspired and very manly, whether they're played at his beautiful home or at One Police Plaza. He's a leader who leads with a calm cool hand and a common sense approach to what's right or wrong. He takes care of everybody from his men to his family and is highly respected for it. "Blue Bloods" is a great show and Tom is as manly as you can get, so we're looking forward to more seasons of "Blue Bloods" in the years ahead.
2. Donnie Wahlberg as Danny Reagan on "Blue Bloods"
Acting in the shadow of the great Tom Selleck could seem daunting to some actors, but not Wahlberg. Like his brother, Mark, Donnie eats up the scenery and excels at playing a tough guy. He's the detective who isn't afraid to break the rules a little in order to get the bad guys. And, get them he does. Even his New Kids on the Block fans love him even more as a kickass cop than as a pop music performer, although he's equally good at that, too. But, we love him best as a manly man who we hope will be on TV for a long time to come. And, judging by the popularity of the show, it looks like he will be gracing our living rooms with his manly presence for many seasons to come. On top of that, he also directed an episode.
3. Justin Hartley as Kevin on "This is Us"
From playing Green Arrow on "Smallville" to playing the hunky misunderstood Adam Newman on "The Young & the Restless" to playing Kevin on this year's #1 new show, "This is Us", Justin Hartley has definitely been on top of making great career moves. Every soap fan in the country was crushed when they heard the announcement that Justin was leaving Y&R in a fiery explosion. But, although we don't get to see him five days a week on the soap, we can tune in and enjoy the scenery on "This is Us". And, as the Grand Marshal at this year's NASCAR championship race in Homestead, we just loved hearing him belt out "Drivers, start your engines!" Fans will probably enjoy watching him for a long time on "This is Us" since it's such a big hit with TV viewing audiences.
4. Mark Harmon as Jethro Gibbs in "NCIS"
We've all loved Mark Harmon for as long as we can remember. In fact, that admiration goes all the way back to the 1987 movie "Summer School". And now, we get to see him every week on the highest rated TV show of all, "NCIS". As Leroy Jethro Gibbs, Mark eats up the scenery and everyone around him with just a look. We do miss seeing him slap DiNozzo on the back of the head, though. Here's hoping that "NCIS" stays on top and on TV for many years to come!
5. Wilmer Valderrama as Agent Nicholas Torres on "NCIS"
Who would have ever thought that the diminutive shy Fez with a slight lisp on the "That 70s Show" would grow up to be a hunk and join the "NCIS" cast? Probably nobody. The show's executive producer, Gary Glasberg, stated that this role is all about allowing Valderrama the opportunity for flexing his physical, dramatic, and comedic talents. He also said that the fans will be seeing him like they never have before. Looking forward to that!
6. Michael Weatherly as Dr. Bull in "Bull"
We all loved him in "NCIS" and certainly hated to see him leave the show, but we get to see so much more of him in 'Bull". He's not only manly but brilliant. Nobody can figure out a jury and get inside of people's heads like Dr. Bull can and that's very sexy and extremely manly. We love him even more in this role than even as DiNozzo on "NCIS".
7. Kiefer Sutherland as President Kirkman in "Designated Survivor"
OK, he may not be kicking bad guy ass like he did as Jack Bauer in "24', but Kiefer is still an incredibly manly prez. He rocks those glasses and fancy suits just as much as he did wearing a leather jacket or a tight T-shirt. And, his sensitivity and intelligence, as well as his grace under pressure, are all very manly. It doesn't even seem possible that Kiefer could ever play anything but manly.
8. LL Cool J as Special Agent Sam Hanna in "NCIS: Los Angeles"
Not only did Mark Harmon's "NCIS" result in a spinoff called "NCIS: Los Angeles", but it also resulted in a couple of manly characters as well. LL Cool J looks amazing in every episode and can kick bad guy butt with the very best of them. He's incredibly manly yet sensitive when he needs to be. He cares a great deal about both the other members of his team as well as his wife and tween daughter. And, we also love him on "Lip Sync Battle", as well, where he places the host with the most. The show's hilarious and LL does an amazing job hosting it.
9. Chris O'Donnell as Special Agent G. Callen in "NCIS: Los Angeles"
Chris may not be quite as buff as LL Cool J, but he's still super-manly as his able-bodied partner. He lights up the small screen in every scene he plays and Callen is a very complex character. He's not just a gun-toting NCIS agent, but also an introspective character who's continually looking for ways to unlock the secret of his past. And, Chris has definitely come a long way from playing Batman's sidekick, Robin.
10. Alex O'Loughlin as Det. Steve McGarrett on "Hawaii Five-O"
Here's another guy who, like Justin, does a few scenes shirtless and women everywhere are swooning every time he does. It's usually when he's surfing those amazing Hawaii waves. The rest of the time, he's running the Five-O team and doing it with grace and style. He's a manly man from the top of his head to his toes. And, a mention of "Hawaii Five-O" wouldn't be quite complete without saying something about his fabulously hunky co-stars, Scott Caan as Danny Williams and Daniel Dae Kim as Chin Ho Kelly. Together they should be called "The Manly Bunch"!
Related Articles
The 10 Most Handsome Male Duos in Movies
http://www.tvovermind.com/movies/eight-old-actors-who-are-still-tough-as-nails