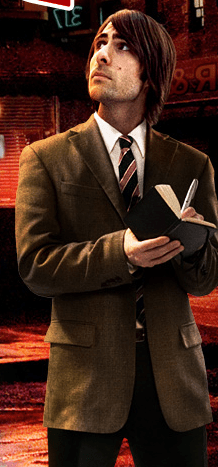 Premieres on Sunday, Sept. 20 (9:30 ET) on HBO
With Hung and True Blood set to end their seasons very soon, HBO is looking for something to fill in that coveted Sunday night block. One of those somethings is the new comedy series (billed as a noir-otic comedy) Bored to Death, starring Jason Schwartzman as a amateur private eye whose only experience comes from reading detective novels.
The series, which also stars Ted Danson and Zach Gilifinakis, has the potential to be truly funny, and also truly successful. Airing in the slot following returning champ Curb Your Enthusiasm, Bored to Death looks like it might just take in a good portion of viewers from Curb, like me, who will just stick around to see what all the fuss around this show is about.
And by all the fuss, I mean the previews that have been popping up between the three Sunday night shows for the past month and a half. My personal favorite of the previews is a very darkly-shot, tongue-in-cheek noir, with the main character, Johnathan (Schwartzman) walks into a bar to meet a potential client. The exchange that follows is both witty and dry, and presents the perfect amount of humor expected from such a detective comedy show.
Bored to Death is expected to premiere on Sunday, September 20, at 9:30, taking the slot of the second half of True Blood, the first half of which will be taken by Curb Your Enthusiasm.