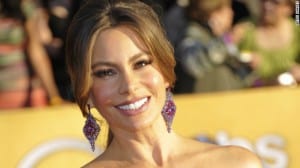 Good news for fans of the matriarch of Modern Family, Sofia Vergara. Seems the beauty is getting her own ABC show based on her life as a young woman trying to raise a child and become a superstar. Sofia Vergara  may be a house hold name now, with her own clothing line and a show that most of the world loves, but things weren't always so perfect for the superstar, and this new ABC show will show us all the stuff we didn't see before she was the celebrity she is today. Note this show is not set to star her, but is very much using her early life as inspiration for the story.
Though details are mum, you can learn more over at Uproxx. The show, called Raising Mom, will be a single camera sitcom focusing on the actress' younger years. Mostly, when she had her son at 21, and was trying to raise him and also working on making a name for herself in the business. Sofia Vergara is a powerhouse, but it will be interesting to see how she was earlier on in her career. Did she always have the confidence she has now?  Was she always so, um, loud? Did her physical appearance help or hinder her early in her career? Well, when Raising Mom comes out, these are just a few of the questions we will have answered.
When the show will air is still unknown as of right now, as they are only in the pre-stages of development. More on Raising Mom as we learn about it.