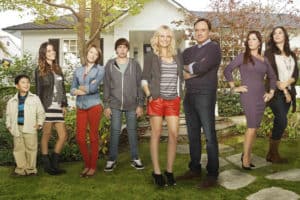 Seems ABC has a found a pretty good stride with their Tuesday night line up, and the network doesn't want to do anything to change that. The Goldbergs has been doing really well, as has its follow up, Trophy Wife, starring the lovely Malin Akerman. Good news for fans of those two shows. Seems ABC has just ordered more scripts for more episodes of both The Goldbergs AND Trophy Wife.
As reported on TV Line earlier today, ABC has just ordered three additional scripts for both shows, stretching out their test run of how well they work, and the ratings they are receiving. I have gushed about The Goldbergs already, as its nostalgic charm is quite hard not to get swept up in. Trophy Wife, on the other hand, I am yet to see, but will definitely try to sit down and watch in the next few weeks to see if it is worthy of the praise it is receiving next to The Goldbergs.
Though time will tell if these two shows have what it takes to stick around in the already over saturated sitcom market, ABC is banking on the fact that they are, and are willing to back that up with more episodes. Tune in to ABC on Tuesday night to see for yourself what you think. The shows air, back to back in prime time.