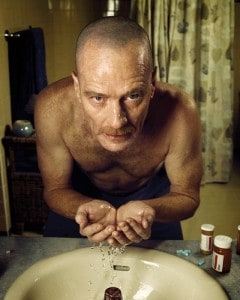 We are all worked up about Breaking Bad week, and it seems that most of the world is, too. We will take Bryan Cranston in any way we can get him. What this means when he was on Jay Leno last night and that it was time to do some digging. To go back into his "anything to pay the bills" phase that all actors starve through at one point. The best part here? For those who don't know, Bryan Cranston used to do the voice overs for some of the bad guys on The Power Rangers. And now, we finally have some video proof.
Though the video itself has been making the rounds on the web for awhile, last night Jay Leno busted it out and wouldn't you know it, we have a confirmation that this is, indeed, Bryan Cranston here talking smack to the Power Rangers as a rubber suited bad guy. Why talk about it, when you can watch it and see for yourself?
What is there NOT to love about this.
So take comfort in knowing that when Walter White is not making meth, or bettering children through higher education, that is he trying to thwart the plans of mega groups of super heroes who can form together to make an even more mega superhero.
Man, I KNEW I loved this guy, and this only makes me love him more.