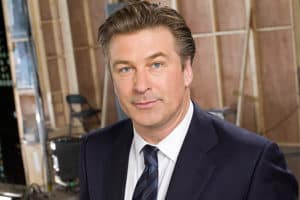 You have to admit, Alec Baldwin wears his moods on his sleeve. He can be the funniest, most charming man in the whole world, but it seems he can also fly off the handle. And nowhere does he aim this rage more than at the paparazzi. The cool thing is, Alec Baldwin knows this. It is not like he tries to pretend that is not accurate. He KNOWS he has anger issues towards the paparazzi, and last night on The Late Show with David Letterman, Baldwin gave a reasoning for his rage.
As reported on Uproxx today, Letterman was at least cool enough to call Alec Baldwin out, asking him why he reacts that gruffly so often. Some quips are made, and Letterman says he actually kinds of finds Alec's outbursts somewhat enjoyable, to which Baldwin responds : Well it's working, as if to jokingly imply that he is doing it for our own entertainment. Hey, a tleast the guy has the ability to laugh about his extreme antics, some celebrities would just get mad that Letterman brought it up, but Baldwin seemed to take it in stride.
The reality here is he goes on to explain that he only reacts that way when his Wife or his child is with him. He says he understands that is part of the job, getting photographed, but on that day, one paparazzi chased Alec's wife into a store trying to get pictures, and that just did not sit well with him, Mess with Alec Baldwin all you want, people, but you start taking pics of his wife and child, and he will bust out some crazy king-fu.
You know, we liked Alec Baldwin, but we also know he is a little crazy. But we give him serious props for addressing the issues surrounding him, and doing so in an honest manner. Makes us like him even more.