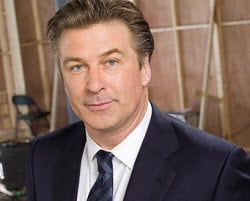 It was no secret that Alec Baldwin wanted to quit 30 Rock for years, but he did manage to stick around until the show ended, and now he's free to stop playing a bizarro world version of himself, as he had for the better part of a decade.
In reality, Baldwin is quite liberal, and the anti-Jack Donaghy in many ways. Therefore, it's no surprise that the next place he's moving is both related to NBC and his political point of view, MSNBC. Baldwin will host a new show on the channel Fridays at 10, and they're going to start getting things underway in October.
MSNBC president Phil Griffin had this to say about the new "Up Late" show via The Hill.
"I've been talking with Alec for a while and can't wait to bring his personality and eclectic interests to MSNBC," he said. "He's got such passion for ideas and what's going on in the world — he's going to be a great addition to our line-up."
"After two seasons of my WNYC podcast, I've developed a fondness for hosting a show that involved talking with smart, talented and engaging people in every imaginable field," he said in a statement. "I'm grateful to MSNBC for helping me bring a similar show to television."
A singular weekly show Fridays at 10PM isn't exactly prime time, but I imagine if he has any good rants, they'll be played on the internet where many more people will see them.
Will you watch Baldwin's new MSNBC show?