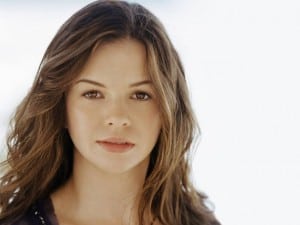 I guess this proves you can write off your main star if he is giving you enough trouble, but still use him for plot points if you need a ratings boost. Amber Tamblyn, who has starred in many things and is more known as being the wife of comedian David Cross, has been cast on Two and a Half Men as Charlie's long-lost lesbian daughter. Well, it's good to know that even in the wake of Charlie Sheen being gone, the show has remained classy.
So TV Line reported that Amber Tamblyn has signed on for five episodes, in which she plays the lesbian daughter of the late Charlie character, who was, ofcourse, played by Sheen. She goes out to L.A to start her career and ends up staying with her Uncle Allen and Walden. Supposedly, she is a chip off the old block, and we can expect her to rile some feathers in her time out in L.A. Which is just what the dying show needs.
Funny, they write out Charlie Sheen's character for being to over-the-top in real life, but it must be hitting them that he was most of the show, so now they are bringing him back, but simply doing it in female form. As if to admit they made a mistake without having to admit they made a mistake. We are personally not saying the firing of Charlie Sheen was a mistake, but it seems like they may be admitting that with the introduction of this character.
I guess we will see if she sticks around for more than five episodes or not next season.