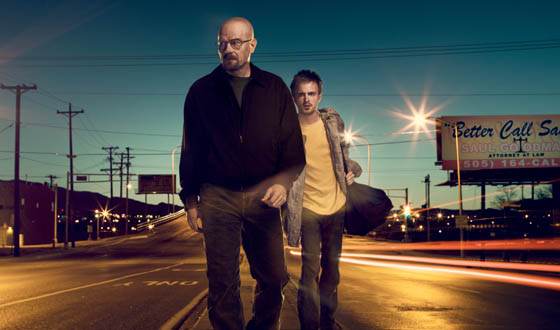 People tuned into The Walking Dead in record numbers on Sunday, and now AMC will be following it up with Breaking Bad, another of their original hits in the upcoming weeks. That's right, the best night of television (Boardwalk Empire, Bored to Death, Eastbound & Down, Dexter and The Walking Dead all air on Sunday night!) just got even better with the addition of Walt and Jesse's Bad adventures.
From AMC:
A long five months have gone by since the Breaking Bad Season 3 Finale, which means at this point you're probably itching to watch all the episodes all over again. Well, get ready to scratch that itch, because AMC is re-airing four select Breaking Bad episodes from the first, second and third seasons. Here's your chance to relive the drama of Breaking Bad's first ever episode, the bombing of Tuco's hideout in Season 1 Episode 5 ("A Crazy Handful of Nothin'"), Tuco's demise in Season 2 Episode 2 ("Grilled"), Hank's RV stand-off with Walt and Jesse in Season 3 Episode 6 ("Sunset") and his ensuing gun battle with The Cousins in Episode 7 ("One Minute"). It all recommences this weekend, starting Sun., Nov. 7 at Midnight | 11C, following an all-new episode of AMC's newest original series The Walking Dead.
Here's the lineup this Sunday (November 7) night on AMC: the second episode of The Walking Dead (entitled 'Guts') airs at 10/9c and then again at 11/10c, followed by Breaking Bad at midnight.
You can click here to see a full schedule of Breaking Bad episodes on AMC.
If that's not enough Breaking Bad for you, you can pick up season one and season two on Amazon, and season three is up for pre-order.