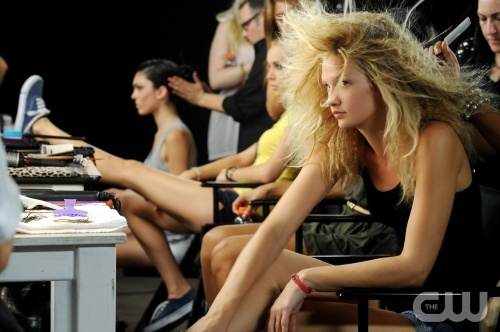 Tonight's America's Top Model is the annual recap episode, this year appropriately entitled "Highlights and Catfights". It will show 'never before seen footage', which the promo highlights as having the following elements in this punchy rhyme; "snapping, napping, rapping". The first of these three things is what we have seen a lot of this cycle and is something that our resident Top Model recapper Shilo Adams has highlighted, particularly after last weeks somewhat stunning elimination results when all round good girl Jaclyn was sent home.
It is not surprising that there is fighting in this competition, after all when you put this many girls together in a house there is likely to be behaviour of this kind, throw in the fact that this is a competition with a rather sizeable prize and this turns this likelihood in to a certainty. What has seemed surprising this year is how many there have been and I wonder if this clip show is likely to revel in this as the title suggests.
What was clear from the outset was that Alexandria was the first mean girl of the cycle and was repeatedly shown interfering and irritating the other contestants. However, there was a shift a couple of weeks ago, first with Monique who was eliminated the same week that she was shown to have a bad attitude. Not that this was down to this attitude necessarily but her middle of the road photographs over the potentially stunning Mikaela (who ended up going home the following week when bad attitudes of others didn't save her).
The isolation from the rest of the group that Alexandria faced, was in part caused by herself and really came to a head the following week when Brittani launched in to a rage filled rant at the Californian contestant, who quickly went from mean girl to being mean girled. If this confrontation had happened in the house and not in front of the client and Nigel Barker then this might not have been a problem for Brittani, but instead she got a rather large dressing down from Tyra who was out voted in her desire to get rid of Brittani for this display of ugliness.
The problem here for the viewer is that they have built Alexandria to be this fake person, who knows how to turn it on to the right people but who does appear to be a nightmare to be around 24/7. All the talking heads reveal that all the girls find Alexandria difficult to live with and have backed this up with clips of Alexandria being disagreeable, they have then tried in later weeks to counter this with Alexandria giving reasons for why she might behave in this manner. However they laid the groundwork so well with Alexandria in the first few weeks, only showing the negative stuff that by the time they show any of the good side opinion is already constructed. Suddenly it was like they needed new adversaries to counter all that they had shown of Alexandria which gave the week with Monique, followed by Brittani and on to last weeks episode; Molly.
Molly has been portrayed throughout as someone who likes to whine about things, at first it just seemed like a result of her very bad weave but since that has gone she is still continuing down this moaning path (on a side note am I the only one that would like to see some adventures of the bad weave in this review episode?). Like Brittani before her, Molly has uttered these aversions around clients and her general attitude has been criticised for being rather cold. Whilst Alexandria can come across as super fake, at least she does it with a smile and enthusiasm whereas Molly can look disinterested, last week this cost her the challenge and landed her in the bottom two. Luckily for her, personality isn't all that is required for Top Model and she survived the elimination and gets to jet off to Morocco with the other final 5.
This raises the issue that always occurs in competitions in industries such as this, should bad attitude be rewarded? I know this show isn't a PSA but it doesn't help that the girl who has been nice throughout and who even the previous week had the best photograph gets sent home before another girl with a crappy attitude who isn't necessarily a much better model. It also makes the cynic in me think that the conflict that has occurred this season makes for great TV so it is better to keep those girls around over ones that aren't as volatile.
These clip shows are always my least favourite episode of the year but this one actually has me somewhat intrigued, especially considering how much mean girling there has been from different contestants in the past few weeks. So much so that the contestants who really stand out to me right now are Brittani (who has always been my favourite of this cycle), Molly and Alexandria, leaving nice girls Hannah and Kasia trailing as contestants to be remembered right now. It will be interesting to see if this edition of Top Model Exposed will reinforce these strong personalities, leaving the nice girls in their wake or whether we will get to see Hannah and Kasia in a different light. One problem I feel with Kasia is whilst she takes some good photographs, like other 'plus size' contestants on this show she always has to pre-empt any remark with this fact of being a real girl and normalcy which can get a little irritating. So far Hannah has taken some good shots as well but she hasn't done anything that has made her stand out from the crowd, despite having the top photo in two of the weeks so far.
What do you think of these highlight shows? Are you hoping that this one goes beyond the in fighting this year or are you clamouring for more? Does seeing bad attitudes change how you feel about a contestant or do you concentrate on the photographs that they take?
Tune in tonight at the new Top Model time of 9pm and catch last weeks episode at 8pm on The CW.