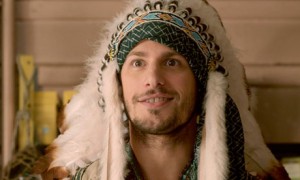 Have any of you had a chance to see the amazing BBC show starring Andy Samberg called Cuckoo? The show where he plays the aging hippie clashing with his new wife's family in the most bizarre and hilarious of scenarios? Well, if you have missed it, good news. Seems the show has just been picked up to be adapted for American audiences by the same people who refitted The Office. Trust me, you want to get pumped about this as Cuckoo is a remarkably funny show.
Hollywood Deadline has the whole story, but from what we know so far, the same duo who wrote the original show will be penning the remake, which bodes very well for the show to maintain the feel of the original. It was Andy Sambergs' first real gig post SNL, even though very few on this side of the pond knew about it.
The one thing that has us worried is that what made Cuckoo work so well was, specifically, Andy Samberg. Much like in Brooklyn Nine-Nine, even when he plays "dimwitted", he somehow manages to still stay likable, which very few actors can pull off. To recast the main lead may be a sign of trouble because you need someone with Samberg's charisma to pull this off. So for now it's hard to see if this will work for NBC or be a huge failure.
But I can tell you, even if the American remake of Cuckoo is half as funny as the original, it will still be a show overflowing with laughs. We will offer more information on Cuckoo as we get it.