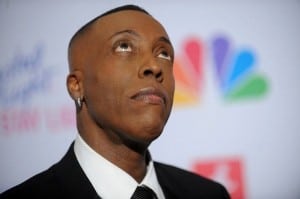 As I have mentioned in many other articles on this site, the world has love for the 90′s, and right now, we are experiencing a REAL 1990′s nostalgia. To prove this, Arsenio Hall was given a talk show again. If you weren't aware at the time, Arsenio Hall's talk show in the 90′s was sort of a must-watch, and if his ratings last night are any indication, the world is still loving the 90′s, and Arsenio Hall's still got it.
Variety gives a rather detailed breakdown of the numbers for last night's show, but to put it in simple terms, Arsenio Hall beat Letterman, Leno, Conan, and Fallon. I think the appeal for many people wasn't just the retro chic that made the whole thing like a fun flashback, but the fact that Arsenio Hall is just not as uptight as some of the other well known hosts. He seems to have fun with his show, and in the process, bring something different to the table than the usual talk show flare.
The real question that arises now is will he be able to keep the momentum of these ratings going, or will they fizzle out after a few weeks. No way for us to know this early on in the game, but there is no denying that Arsenio Hall had a pretty impressive comeback last night.