I thin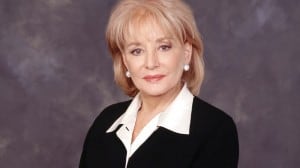 k it is safe to say that modern journalism would not function the way it does were it not for Barbara Walters. The woman is an absolute powerhouse in the industry, and has earned the respect and admiration of many, paving the course for all female journalists who came after her. Speaking of female journalists coming after her, the talk right now is who will be taking her "Serious Journalist" role on The View when she finally ends up leaving. Though many names have been dropped, Katie Couric seems to be the name most circling the industry right now. But Barb is here to remind us that will not be happening. Problem is, Barbara Walters has lied to us before.
Relax, nothing serious. I am simply implying to her being indirect about Elizabeth Hasselbeck during the time on the show where Hasselbeck was bringing much drama and attention to the show, and saying some things other cats members just didn't agree with. When that happened, and people asked her if Hasselbeck would be getting removed from the show, Barbara Walters said no. Yet, weeks later, Hasselbeck is gone. The full story was reported earlier today on Hollywood Deadline, but her constant inconsistencies are leading many to believe that Katie Couric will INDEED be taking over for Barbara Walters when she steps down from The View.
Essentially, none of this is set in stone, people, but we are just reading between the lines, and it seems to say Couric on The View. Though we will know just how right or how wrong we are soon enough. Stay tuned, as they say in the business.