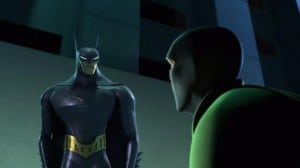 When I heard a new Batman cartoon was coming on Cartoon Network, I had my doubts. There are few cartoons as amazing as the 90′s, Batman: The Animated Series, and though many shows have tried to step into that show's cowl, few have been able to recreate the magic. What you do notice with Batman cartoons, though, is that they ALL bring something different to table. The Brave and the Bold brought us the cheesy fun of the golden age of comics, and captured that perfectly, though the humor was too cute for some. Beware the Batman is a different tale altogether, bringing us a darker, more unique version of Batman to the small screen. And doing it with a really cool CG art style that I promise will grow on you the more you watch it.
First thing that might set some people off is the animation. Some people are sick of the plastic look that CG coats everything with, but in Beware the Batman, it really works. Why? You get an idea that these are action figures, come to life. This is a very angular world, and from the shapes of the people to the architecture of Gotham City, it all feels like a toy chest that has come to life. While that may sound like a turn off, it isn't. It actually works really well with the world they create for us.
Another big turn off for many was the lack of Batman's best villains. Beware the Batman introduces ALL NEW villains into the mix, and the lack of Joker (atleast so far) in a Batman series is enough to make some people run in the other direction. But once you realize what they are doing here (creating a whole NEW rogues gallery, with some genuinely original and cool villains) it actually hits you that what they are doing is pretty impressive, and they are pulling it off. They are rebuilding this world and these characters as we know them, and in that, giving us a whole new Gotham and a whole new Batman to familiarize ourselves with,
And I, for one, think it's bat-tastic. So check out Beware the Batman. You might just be as pleasantly surprised as we are. And believe me, the Jaston Statham-esque Alfred will grow on you, too. Just trust me.